Adrian J Cotterill, Editor-in-Chief
Following a trial at Birmingham Bullring and the successful launch in London rail stations last summer Titan Outdoor Tuesday announced the launch of 100 or so digital six-sheets (D6) at several other premium shopping centres across the UK.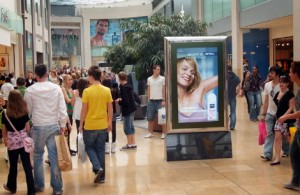 The mall D6 units will be situated in 18 of the top 30 ranking centres including Bluewater, Lakeside and Merryhill – units are already up and running at Centre:MK we believe.
Jon Slatkin, Chief Executive of Titan UK, told us "Now that Titan is firmly focused on rail and retail out-of-home opportunities we will be working hard to improve the experience for advertisers. We've been delighted with the success of D6 in our rail environment and believe this will be emulated across premium shopping malls, offering advertisers the opportunity to enhance their 6-sheet campaigns with added standout and flexibility."
There is no doubt in our mind that these digital screens will of course enhance Titan's existing mall offering through the ability to deliver animated content.
This is a move that we think should see VMG Global and Clear Channel finally pack their bags and give up on UK Malls and should also be worrying ASG Media and its parent Neo Advertising with their Mall Network (which is still predominantly TV style landscape units hung from Mall ceilings).
The D6 of course is the enclosure designed and manufactured by iBlink who also do the 24×7 monitoring via their NOC in London, content optimisation, installation and maintenance. Software inside them is Dynamax with some extra iBlink add-ons to take better care of reporting and monitoring.