Gail Chiasson, North American Editor
With the goals of improving content, developing best practices and generally advancing the digital out-of-home industry, the Digital Content Circle (DCC) has officially been launched by Arsenal Media, Montreal, and Dagobert in Paris today.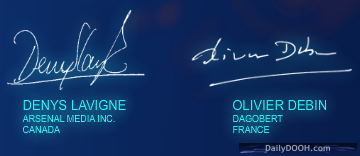 Industry players, advertisers and digital out-of-home project leaders worldwide are invited to join this open and ongoing online forum for sharing experiences and advice. Already on board and involved are Show+Tell Productions, New York digital out-of-home media production resource for creative agencies and our own DailyDOOH.
The DOOH sector has been one bright light in the current economic media downturn. The most recent prediction we've seen is that global sales of digital signage will reach $14.6 billion annually by 2011. (Souce: iSuppli). With the industry growing at top speed, key players are seeing the need for learning about and spreading the knowledge of what works and what doesn't, how to avoid mistakes, and to generally set some industry guidelines.
Digital Content Circle has initially launched a microsite at www.digitalcontentcircle.com to get the ball rolling and shine the spotlight on content-related issues central to digital signage project development. The full. more comprehensive site will be in operation before year-end.
As those in the industry and users of DOOH know, digital display is an exceptional medium for deploying brand strategies. It combines the accessibility of television, the interactivity of the Internet and the broad reach of outdoor advertising. Growing at such a phenomenal rate, it has become a key element in increasing the number of points of contact and enriching the experience between brands and audiences. Digital display technologies are instrumental in creating dynamic sales environments, reinforcing brand image, influencing point-of-purchase decisions and minimizing perceived waiting times. They bring together the convenience and efficiency of mass market coverage with the impact of a personalized approach.
Olivier Debin, president of Dagobert, and Denys Lavigne, president of Arsenal Media, are the driving forces behind the Digital Content Circle. Dagobert is a French leader in the development of content for point-of-sale digital signage systems. Arsenal Media is a content marketing agency specializing in the DOOH industry serving clients in Canada and worldwide.
As DOOH developers, strategists and content creators, the Digital Content Circle's founders say that they hope to be at the vanguard of the industry's evolution, and on the front line of promoting best practices for a medium that will shape the marketing environment over the next 25 years – they say that, because content has too often been relegated to a secondary role in planning and implementing digital signage projects,
Arsenal Media and Dagobert are committed to finally giving it the attention it deserves.
In creating the Digital Content Circle, Lavigne and Debin stress that content strategy must be the starting point of any digital signage project and have a major influence over the way it is executed.
"The core interests of DCC are how to be creative and to establish guidelines," says Lavigne.
The mission of the DCC is to contribute to the advancement of the medium, to the project development process and, above all, to the caliber of digital content output.
"While we see DCC initially as an online forum for the sharing of ideas, knowledge and cases, as we evolve, I can see in the future that some DCC members may have a presence as event speakers on the topic," says Lavigne. "Maybe in a few years, we'll have our own conference. But right now, we see the Web as the most practical way to share, discuss and validate to form guidelines.
"I believe that best practices will be much the same worldwide. While there may be differences in language and cultures, guidelines on topics such as distance from screen and type of screen will be of interest to all."
Our own Adrian Cotterill, editor-in-chief of DailyDOOH.com and DailyDOOH.asia , says, "Spending time observing the digital out-of-home industry can be painful at times but joyous at others. We feel that the presence of a group like the DCC is only going to make what we look at and what we experience so much better. Our industry needs a much stronger content voice and having content creators and other industry specialists share ideas will only enrich best practices."
Once the full version of the digitalcontentcircle.com site is released, digital display industry stakeholders (hardware/software providers, networks, system integrators), advertisers (branding specialists, media agencies, advertising firms) and digital signage project leaders worldwide will have access to a forum dedicated to exploring innovation and changes in best practices in content creation and project development. There is no cost involved.
In the meantime, to become associated with Digital Content Circle, contact: olivier.debin@dagobert.fr or denyslavigne@arsenal-media.com. Or leave a comment below and we'll pass it on.
Established in 1999, Arsenal Media develops digital content and marketing projects for audiences on the move. It has achieved a high level of expertise in various types of interactive and other technologies and has produced more than 1,000 pieces of customized content for DOOH projects and networks. This content is targeted at audiences on the move and adapted for Web and mobile marketing applications.
Founded in 2000, Dagobert advises and assists brands in the definition, creation and deployment of their digital strategy. The content created and deployed is integrated using a 360° approach, including Web, touch screen, branded TV and mobile solutions.