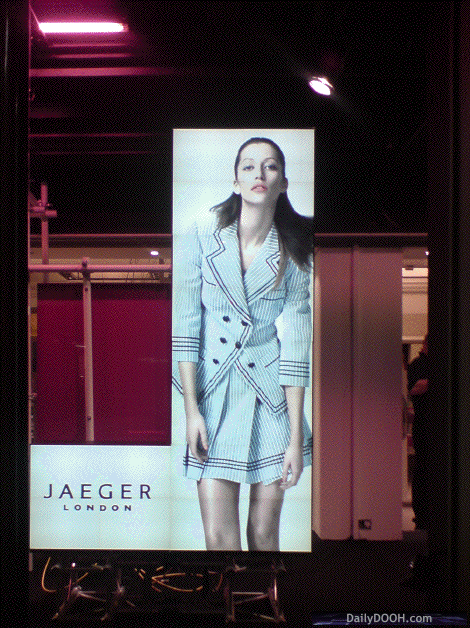 Another exclusive. This is a window display at Harrods, London which went live late Saturday evening (hence the night / evening shot) showing an innovative daylight viewable screen shape.
The picture shows the screen arranged in a 'J' type formation – it's made of up five ITrans modules though we believe the original idea was to have an 'L' shape.
It's in the window for the month of May and is all part of Harrods' Design Icons promotion – even so the clever folks at Harrods managed to 'sell' some advertising space on the screen with Jaeger!
Jason Cremins, CEO Remote Media told us "The use of ITrans enables unique shaped high-brightness screens to be installed in-window to attract attention unachievable through the use of conventional LCD or Plasma displays"
Remote Media [1] are behind the installation and the ITrans modules are supplied by Screen Technology Ltd. [2], their Cambridge manufacturer.
Jason continued "Powered by our signagelive player HD and signagelive mobile GPRS/3G, the ITrans can be remotely update and monitored from the signagelive platform anywhere in the world using an Internet Browser."