Clear Channel Spectacolor made two interesting announcements late on Thursday; First up we are told "prepare for total domination!". The owners of the biggest LED Spectaculars in Times Square decided it was high time to form a consortium to make it easier to buy ad time at the 'Crossroads of the World'.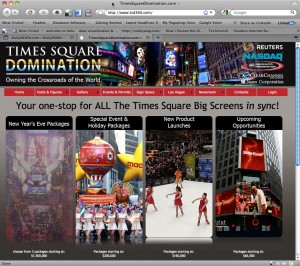 This group has created a hyper-local sign aggregation service for Times Square … Ladies and Gentlemen, introducing "Times Square Domination [1]" a series of package deals that let brands and advertisers buy up ALL the screens in the square, creating the mother of all brand-immersive experiences.
Harry Coghlan, president of Clear Channel Spectacolor told us "Sometimes, the benefits of coming together as an industry for customers are so compelling that even strong rivals see the value. Today, we've arrived at one of those moments."
Clear Channel SpectacolorHD also took the opportunity to launch 'The Times Square Network' and here we are told that Clear Channel is the first to launch this cable-style broadcast network focused on all things Times Square.
The network programming with consist of short-form segments that will be broadcast on the SpectracolorHD video screen at 47th Street- Duffy Square….
The network is a new, fully-integrated digital media platform combining the best of television, out-of-home advertising and live event elements… the network has three elements, a studio that will generate live content and serve as a production center; a street crew that will roam Times Square with cameras, including visitors in what's happening up on the SpecHD screen; and a companion Web site that lets visitors experience Times Square before they arrive as well as carry the experience home after they leave
This last announcement is very intriguing considering all the news [2] this year about Clear Channel Outdoor's (alleged) serious money issues, prompting the financial community to begin speculating on limited potential [3] of this company.
The amount of money to operate the "All-Times Square, All the time" [4] outdoor broadcast network AND keep the programming fresh and interesting isn't going to come cheap.
Can they can pull it off and make some money in the process? – time will tell, but how much time do they have left?