Adrian J Cotterill, Editor-in-Chief
Blimey, seven large Lighthouse screens have been installed for mobile communications giant Nokia at BAA's London Heathrow Terminal 5.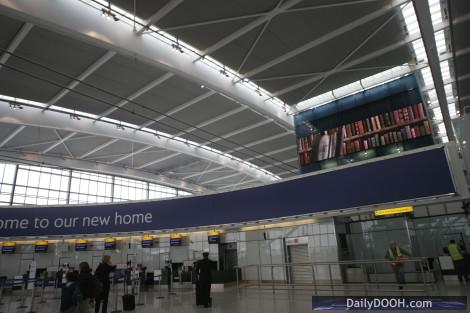 Designed and specified by 767 AV Consultants, all seven screens use Lighthouse front access 10mm panels, arranged in a landscape (14.08m x 3.36m) format.
The screens are built into five ventilation towers which are dressed in blue glass, providing 'landside' passengers with five screens, one on each tower, whilst those 'airside' enjoy two screens, mounted on the rear of the second and third towers.
The Nokia Flagship store is located airside, but the five landside screens are designed to entertain and entice those checking in to explore the store once they have passed through to the departure lounge.
With systems integration by Electrosonic and content management by Beam Systems, the source equipment is located within the Nokia store and fibre optics is used to transmit the signal from the PC source to a local control rack and the screens.