Adrian J Cotterill, Editor-in-Chief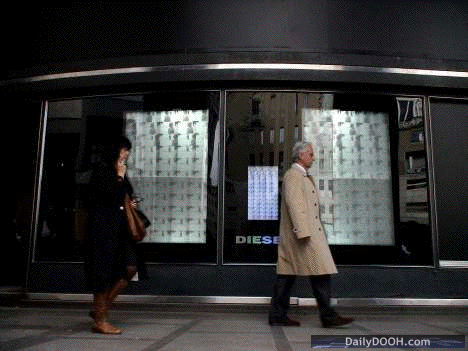 Trend Hunter picked up this story first with a couple of pictures and their own video…
Frantic Milanese shoppers are being catapulted from their hypnotic states as they witness the reverberation of their reflections projected in front of them. The images are displayed across an interactive sculpture installed in the window of the forthcoming Diesel store in Piazza San Babila, Milan.

Those that take a second glance may play with the rippling sequence of images as if digitally painting with a trail of time, or use the touch-screen to interact with many of the other equally surreal experiences offered by the technology.

The haunting, big brotheresque installation echoes the life of the facing square and the people that pass through it. It captures both movement and time, acting as a kind of digital mirror, albeit one that delivers back a very distorted and twisted reflection.

The installation is set to run until July.
We think the installation might be by the SensitiveWindows folks who we have written about before (in Rome).