Adrian J Cotterill, Editor-in-Chief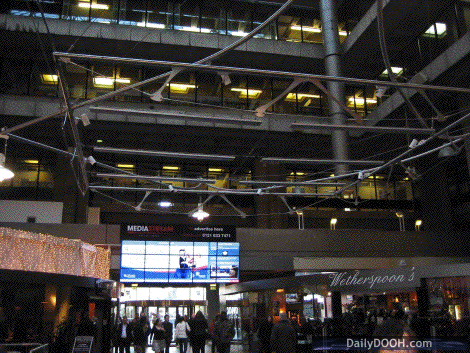 Here is the largest directive audio Sound Shower installation in the world – found at the Paradise Forum in Birmingham, UK!
The Paradise Forum is a walkway which forms a natural path through the heart of Birmingham, England's second biggest city and is a place to shop and eat and is also the number one meeting point in the city.
Allegedly over 200,000 people walk through the area every week,
Media Stream Solutions is we are told the Forum's advertising solutions provider and have worked with Panphonics and Nexus Digital Signs to build a screen network solution.
Media Stream Solutions is an advertising solutions provider offering advertisers to purchase advertising and promotional space in two of the most visible locations in Birmingham city centre.
There is a giant video wall made up of tiled small screens from NEC (yuk – we really hate the creation of video walls with tiled LCDs and TFT PDPs) and the Panphonics sound shower, made up of six Sound Shower speakers, each three metres long, sits above that.
This creates an audio footprint an impressive 7 x 7 metres square!!!
It's a LONG, long time since we have heard of an implementation from Nexus Digital Signs – only the other day we were saying that we used to see them at EVERY event there was BUT very few implementations.
Nexus Digital Signs is a digital signage company with an emphasis on rich media content development and distribution. It is an end-to-end solution provider offering system design & development, system integration and network operating services.