Gail Chiasson, North American Editor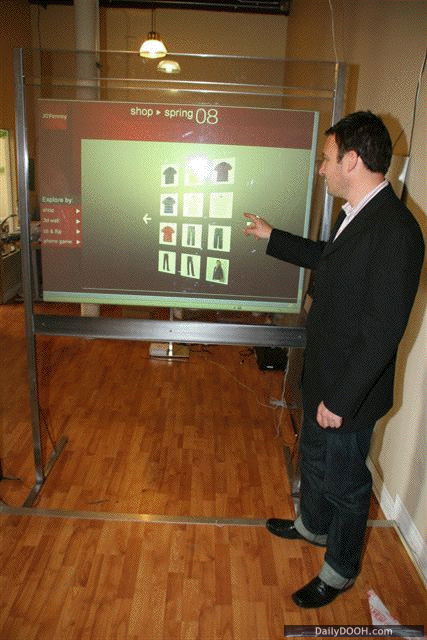 Montreal-based iGotcha Media is heading to Avenue A Razorfish's Rock The Digital World event in New York City May 13-15 to show off its interactive digital window, designed, in this case, for JC Penney stores.
Similar iGotcha's interactive digital windows in various designs (and available in numerous sizes), have been used twice by retail outlets in Canada: by Roots in Toronto, and Garage in Montreal. (Roots claimed a sales increase of 40% from the Toronto area following the screen's installation, as well as a large increase in e-mail sign-ups.)
The JC Penney Interactive Storefront – powered by Avenue A Razorfish and iGotcha Media – will demonstrate the latest in interactive touch screen technology and how the window display on the front of a store can be turned into an immersive, engaging and playful experience for shoppers, even when the store is closed.
For example, a shopper passing the store at midnight could look for fashions available for certain activities (eg. parties, casual, work), see what's available, zoom in on a specific dress, flip it over for details, add it to a shopping cart and have her order delivered. The touch screen window, which uses two types of foil in its production, also has a virtual keyboard for such details as an e-mail address, allowing a store to build a database.
When they launched iGotcha in 2005, founding partners lawyer Greg Adelstein, president, and engineer Michael Terni, vice-president, started the business offering WebPads with free Internet access in 50 high-traffic coffee bars and other Montreal hotspots. However, they have since refocused their business to concentrate on the development of interactive digital screens and conversion of stationery posters to interactive boards. They are planning to put their products in subways and airports as well as retail outlets across the U.S. and Canada. (Their Webpads may be refocused for use in niche markets such as doctors' offices, based on an advertising and sponsorship model.)
The JC Penney window exhibit will be iGotcha's first major showing in the U.S., but the company has developed prototypes for a range of possible advertisers, incorporating games, theatre information and numerous other possibilities.
"Imagine during the Grand Prix weekend that a tourist passes a window and sees the driver's hat he's been looking for," says Adelstein. "He could order it immediately via the store window, even if it's midnight and arrange to have it sent to his home."
iGotcha offers a full turnkey operation, including managing the content, but also offers the option for clients to handle it themselves. IGotcha's interactive digital windows can provide clients with such information as the number of people using, the length of their sessions, which buttons were most used (eg. Was the blue or red dress more popular?), and other details, as well as database collection.