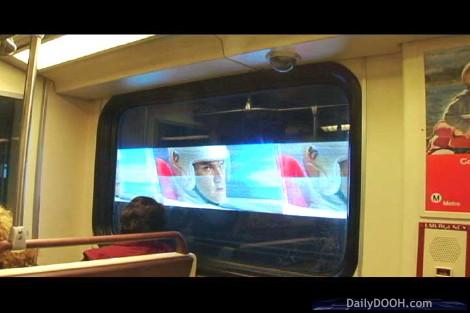 Sidetrack Technologies [1] are installing for free their electronic LED display in the Los Angeles County Metropolitan Transportation Authority (Metro) subway – the first such system in North America we believe.
It's a two year pilot project that is expected to generate at least USD 240,000 per year in additional rail operating revenues for Metro. The 15?second advertisements will be visible to passengers on northbound trains between the Hollywood / Highland and Universal City stations.
The two parties have arranged an additional revenue sharing structure if revenues exceed certain benchmarks. The launch advertiser is the latest in a series of multiple "Bull's Eye" images from US retailer Target. A 'Speed Racer" commercial, shown above, was used for initial testing and we think you will agree looks great!
You may not have seen this technology in action, Sidetrack describe it;"the dark subway tunnels briefly turn trains into mobile movie theatres where passengers are dazzled by colorful, live?action video segments".
Other Sidetrack installs currently include the London Heathrow Express [2], Singapore and Beijing.
Within the next two years, the Sidetrack expects to install systems in Boston, San Francisco, New York, Chicago and Washington.