Adrian J Cotterill, Editor-in-Chief
TomTom and Amscreen today announce a sponsorship deal to provide millions of motorists with the most up-to-date traffic information thanks to TomTom's HD Traffic system.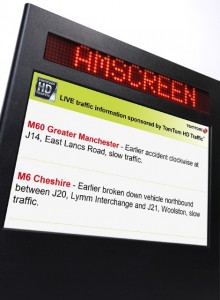 The deal will see TomTom become the exclusive provider of live traffic feeds across Amscreen's digital signage network.
Simon Sugar told us "We're delighted to announce this deal with TomTom. As the market leaders in portable navigation systems they offer first class traffic information and we see a great synergy with the Amscreen digital signage network. We look forward to working with them further as we expand our network over the coming months."
The first convenience store network to feature TomTom's HD Traffic will not surprisingly be the BP petrol forecourts.
TomTom's HD Traffic technology uses data from travelling Vodafone users, making it possible to monitor, in real time, the actual speed of millions of cars across the road network. This data is merged with anonymous real-time GPS data from connected TomTom customers and information from traffic authorities, road operators and commercial third parties to provide customers with the most accurate and precise traffic information.
Damian Woodward, VP Sales & Marketing, TomTom told us "The Amscreen network provides us with the perfect way to assist over 7 million motorists per week. Our HD Traffic technology enables us to provide these customers with traffic information featuring unprecedented accuracy and quality."
About TomTom

TomTom NV is the world's leading provider of navigation solutions and digital maps. TomTom NV has over 3,300 employees working in four business units – TomTom, Tele Atlas, AUTO and WORK.

TomTom's products are developed with an emphasis on innovation, quality, ease of use, safety and value. TomTom's products include all-in-one navigation devices which enable customers to navigate right out of the box; these are the award-winning TomTom GO family, the TomTom XL and TomTom ONE ranges and the TomTom RIDER. Additionally, independent research proves that TomTom products have a significant positive effect on driving and road safety.

Tele Atlas delivers the digital maps and dynamic content that power some of the world's most essential navigation and location-based services (LBS). Through a combination of its own products and partnerships, Tele Atlas offers digital map coverage of more than 200 countries and territories worldwide. The AUTO business unit develops and sells navigation systems and services to car manufacturers and OEMs. WORK combines industry leading communication and smart navigation technology with leading edge tracking and tracing expertise.

TomTom NV was founded in 1991 in Amsterdam and has offices in Europe, North America, Middle East, Africa and Asia Pacific. TomTom is listed at Euronext Amsterdam in The Netherlands.