Digital billboard manufacturer Daktronics Inc. (NASDAQ-DAKT) of Brookings, S.D., recently provided a Valo ® digital billboard display to Adversity Outdoor Advertising.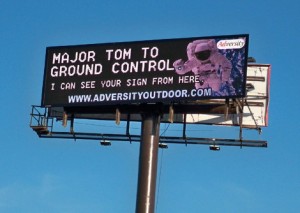 Adversity Outdoor's first digital billboard is located along I-526 Mark Clark Expressway, in Daniel Island, S.C., a suburb outside Charleston, S.C.
More than two years ago co-owners Dan Gowdown and Hank Hanna, who also own and operate Daniel Island Rentals, saw billboard revenue potential in a piece of property for sale along the expressway in Daniel Island.
No outdoor billboards stood within miles of the lot, plus approximately 70,000 vehicles pass directly by the location each day. Once they landed the property, Gowdown and Hanna began their efforts to obtain a digital billboard sign permit with Berkeley County.
A legal battle lasting nearly two years finally prevailed in favor of Adversity Outdoor this past September, and with the help of Daktronics, a digital billboard was installed.
Dan Gowdown told us "I think our thought process is that you have all these outdoor companies out there who are trying to go digital—unfortunately there are plenty of municipalities and governments pitted against them for the wrong reasons,"
He added "We honestly feel we have 16 billboards in this one digital billboard face. Once municipalities begin to realize that digital billboards are safe and can be effectively controlled, they begin to understand their validity."
Both Gowdown and Hanna were adamant in the reassurance they received from Daktronics not only in the quality of product they sell but also in the fact that the company has staff located extremely close to the billboard—a Daktronics representative lives within minutes of the billboard.
"Should we ever encounter a problem we know Daktronics is close by. The company, and their sales and service people in general, really have gone the extra mile for us," said Gowdown.
Gowdown and Hanna aren't your typical outdoor advertisers. Both are in their early 30s, operate a very substantial real estate business in the Charleston area, and have optimistic outlooks when it comes to digital billboard advertising.
"We look at it as we weren't part of the original outdoor billboard boom during the 1940s and 50s, but we're part of the new digital billboard boom going on today, and couldn't be more thrilled to get started," said Hanna.
When asked why Adversity went with Daktronics as opposed to other manufacturers, co-owners Gowdown and Hanna summed it up to the passion they received from Daktronics.
"We really felt the enthusiasm was better. Daktronics was a good fit based on them being able to accommodate to our needs and energy levels," said Gowdown.
Hanna agreed and said "Daktronics has a reputation in this digital industry for being the best at what they do, who are we to disagree?"