Adrian J Cotterill, Editor-in-Chief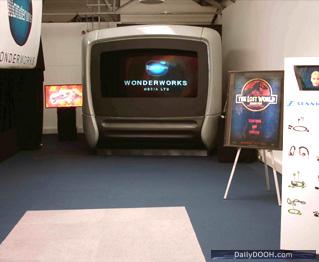 We noticed that the UK's Bluewater Shopping Mall has in the last couple of months introduced a 3D television known as an AdPod. It's in the West Village in the waiting area of the newly refurbished ladies' washroom (don't ask!!) and is broadcasting 3D fashion shows from brands such as Diesel and Estée Lauder.
AdPod was developed by Wonderworks who claim that it is beginning to be rolled out to shopping centres worldwide (this is the first one we have seen and heard of).
The AdPod allows brands to advertise in 3D format on the main side or in traditional poster or digital screen formats, which are found on the other three sides.
AdPod looks like it is modular in design and also looks like it can easily be modified to suit individual sponsors by branding and customising the housing.
We believe that the 3D technology is licensed by Wonderworks from Musion
The photo courtesy of Wonder Works Media Ltd shows their London presentation studio showing AdPod at the back, StagePod on the left, VisPod on the right and two lenticular posters