Adrian J Cotterill, Editor-in-Chief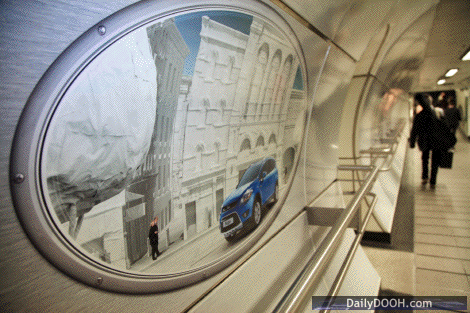 That's a tongue twister and a half, repeat after me "Escalator Wall Wrapped At Waterloo, Escalator Wall Wrapped At Waterloo" – whilst not digital (at all) we liked this for a number of reasons…
First, Ford has chosen an Outdoor Impact format to support their TV campaign for Kuga, its new SUV.
Secondly it is the first time an entire escalator wall has been wrapped at Waterloo (and the first time that a brand has wrapped the whole corridor at London Bridge Tube station).
With all the digital screens on the London Underground (don't get us wrong when we say this) but it all made / makes a refreshing change.
As CBS Outdoor tell us "Both giant formats create unique spaces allowing a brand to use sequential images to develop true captivation on the London Underground"
I think unless CBS Outdoor are careful – and it seems to show here that they are being careful and continuing to be innovative – the portrait digital panels could easily 'wear-out' the consumer audience (hence the need for really compelling content – like the split screen 'special constable' display we showed you a while back).
The campaign was planned by Mindshare and bought by Kinetic and is aimed at ABC1 men wanting a car influenced by style but that will accommodate children.