Even with a USD 100 million VC fund specialising in this sector AND (separately) folks globally, all over different Intel divisions looking at where the opportunities in digital signage may lay for them you could be forgiven for thinking that they are just another corporate larking about in this space – a la Cisco perhaps? Ed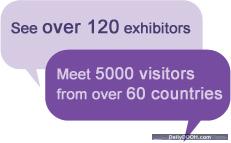 But no that definitely does not seem to be the case. Word reaches us that these guys are serious. So serious in fact that they have recently booked 100 square meters of exhibition space at none other than Screen media expo in London next May.
OVAB Europe President, Dirk Huelsermann told us "The industry needs good shows and conferences and OVAB is excited that DOOH Expo looks like it is well on track to deliver a unique, targeted, quality audience for the industry"
DOOH Expo is running alongside Screen media expo Europe next May in London, Ed
He added "Screen media expo continues to work hard to promote the growth of Digital Out of Home and we are excited to see the likes of Intel Corporation sign up for a big exhibition space and sponsor some of the conferences"
To give you some sort of perspective, Scala are taking 60 square meters in 2010 (double what they had in 2009); 100 square metres of exhibition space is probably 2 or 3 times larger than what the likes of Hyundai or Dynascan would have at such a show AND the only folks likely much larger in London next year would be Samsung (in 2009 Samsung had 110 square metres).
It's good also that Intel has booked a 20×30 foot booth (600 sq feet) at DSE in Las Vegas (they are also a Gold Sponsor of Digital Signage Expo 2010) but interesting that they have the larger space in London.
Believe us, this is going to make a lot of people wake up!