LG recently launched a national Out of Home campaign to coincide with the launch of their latest Chocolate handsets (including the new Chocolate BL40 and the forthcoming Chocolate BL20) – this two week campaign ran across London 6 sheets and national bus T sides in addition to the five interactive touch screen bus shelter specials booked in London, Manchester and Glasgow shown here.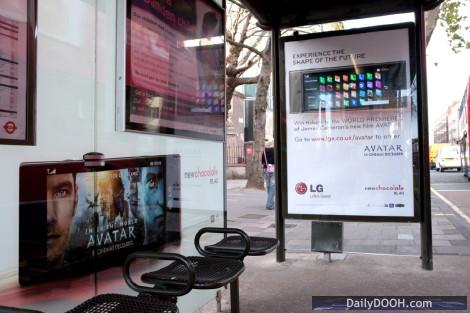 The digital bus shelters featured information about the handsets plus characters and trailers from James Cameron's Avatar film, out in cinemas on the 17th December.
The interactive bus shelter 6 sheets implemented by JCDecaux Innovate – remember these from Goo The Egg?, Ed hosted a 42" touchscreen combined with a PIR motion activated system and camera. When inactive the screen simply features the Na'vi's eyes until a member of the public approaches and the motion sensor activates a talking Avatar before the new Chocolate LG40 comes into shot.
A short video shows the touchscreen and qwerty keypad navigation, a walkthrough of the web browser, Google maps, and GPS applications before going to the media browser and selecting a video clip which launches the 30 second Avatar trailer.
Returning to the media browser carousel, the user is then invited to opt in by pressing icons on the screen to view more product information, take part in a competition or view the trailer again.
Mindshare and Kinetic handled the media planning and buying for this campaign which was supported by online activity produced by Kudo Digital.
John Barton, Sales and Marketing Director at LG told us "We wanted to have an impactful execution that would bring the new LG Chocolate's features set to life in an accurate and creative way. This solution is excellent at both grabbing attention and involving consumers in the content."
Credits:

Project Shape the Future

Client LG Electronics UK Ltd

Brief To create a campaign that would bring the new LG Chocolate's features set to life.

Creative Agency Y&R

Digital Agency Kodu Digital

Creative Director Paul Harrison

Planner Laura-Jane Powell

Media Agency Kinetic Worldwide Ltd
Laura-Jane Powell, Account Manager at Kinetic commented "This campaign demonstrates the ability of Out of Home to both raise awareness on a mass audience level and also to immerse and educate consumers on a one to one level. The interactive element is both fun and informative in an environment where dwell times are lengthy and consumers are crying out for stimulation."
About LG Electronics, Inc.

LG Electronics, Inc. (KSE: 066570.KS) is a global leader and technology innovator in consumer electronics, mobile communications and home appliances, employing more than 84,000 people working in 115 operations including 84 subsidiaries around the world. With 2008 global sales of $44.7 billion, LG comprises of five business units – Home Entertainment, Mobile Communications, Home Appliance, Air Conditioning and Business Solutions. LG is one of the world's leading producers of flat panel TVs, audio and video products, mobile handsets, air conditioners and washing machines. LG has signed a long-term agreement to become both A Global Partner of Formula 1™ and A Technology Partner of Formula 1™. As part of this top-level association, LG acquires exclusive designations and marketing rights as the official consumer electronics, mobile phone and data processor of this global sporting event.

The LG Electronics Mobile Communications Company is a leading global mobile communications and information company. With its cutting-edge technology and innovative design capabilities, LG creates handsets that provide an optimized mobile experience to customers around the world. LG is pursuing convergence technology and mobile computing products, while continuing its leadership role in mobile communication with stylish designs and smart technology.