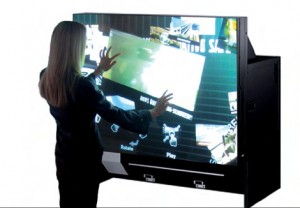 As the press release says "Users are becoming much more familiar with touch interfaces through products like the iPhone™" and visitors to ISE 2010 next February in Amsterdam are very probably going to be faced with a whole multitude of new products that incorporate interactivity by touch or by gesture.
One such product that we are looking forward to seeing is this Mitsubishi Electric interactive display wall. It's described as a "revolutionary new multi-touch (MT) interface" and sits atop of its Seventy Series DLP ™cubes.
Note: We have seen similar laser based gesture systems from folks like Montreal's Float4 Interactive – currently being used with all the launch and pre-sales work that is Christie Digital is doing at the moment with their MicroTiles launch.
The new interface transforms a standard multi-window display wall into an interactive workspace that can be used by several users simultaneously. This was first revealed to the public two weeks ago in Sweden and the system, we are told, has already aroused considerable interest from both the digital signage and command and control sectors.
The multi-touch technology was jointly developed in Sweden by Mitsubishi Electric and i3 Sense and uses laser sensors instead of the more usual infra-red (IR) detectors or capacitive touch overlays.
As well as offering greater accuracy and responsiveness, the new system seems much less susceptible to interference from sources of IR radiation such as sunlight.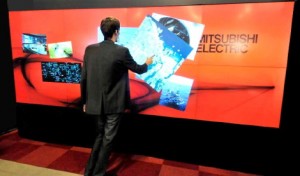 The technology, we believe, makes it possible to create reliable multi-touch, multi-user interfaces in normally-lit environments such as control rooms, shop windows or other public areas.
Daniel Quitzau of Mitsubishi Electric Sweden told us "The Multi-Touch option creates a completely new class of user interface called a Natural User Interface (NUI). The strength of NUIs are that they are completely intuitive: The technology removes the need for the operator to have specialist training or to be aware of how the data is being managed – configuring a display really does become as simple and as intuitive as arranging paper on your desk"..
Mitsubishi Electric's Seventy Series cubes are available in 50″, 60″, 67″ and 80″ screen sizes in both 1024 x 768 pixel and 1400 x 1050 pixel resolutions.
All their Seventy Series cubes can now be supplied with the i3 Sense MT option and it is also possible for the system to be retrofitted into existing installations.