All the folks working on the Christie Digital MicroTiles launch for this evening have dubbed this particular shape, 'The Big O' – the Issy-Neale Formula for it is _4X5_4T_THHT_THHT_THHT_4T_ that's accurate but less catchy!
It's definitely one of our favourites. Note how easy it is to put retail merchandise in the middle of shape…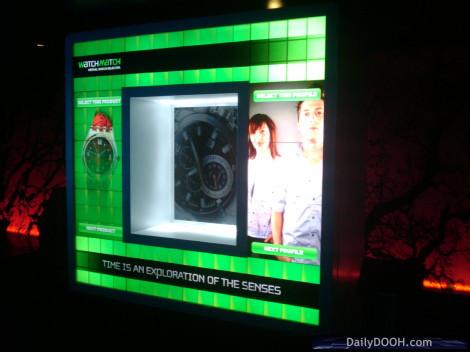 It's made up of 14 MicroTiles, 3 ECUs and 3 playout PCs. It's made interactive (there are a number of large on-screen buttons on each side of the unit that allow users to choose product) as it is powered by Float 4 Interactive software.
Content on this particular display was put together by Arsenal Media and as the picture shows, is mocked up to be for use in a retail watch / jewellery environment.
A great example of an innovative (and interactive) branded fixture, undoubtedly as Adrian would say "Shape is indeed the new king"
There is talk of making this double sided. How cool would that be as an exhibit in the centre of a stand at a trade show or indeed as part of retail theatre? This is the shape by the way that we are hoping to have on our Blogger Lounge in Amsterdam.