Adrian J Cotterill, Editor-in-Chief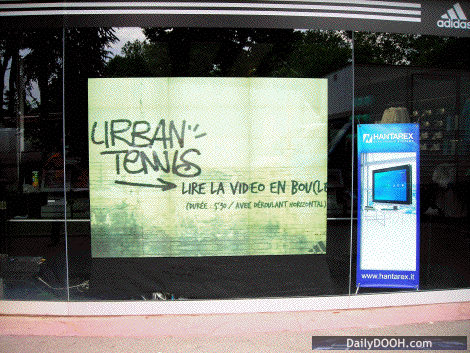 Big screens in windows are definitely where it is at in retail at the moment and it is no different with this Adidas store at the Stade de Roland Garros. As well as the picture here there are some great 'shots' of this screen installation in the – DailyDOOH SHOWCASE –
The Hantarex screen is a massive 102″ diagonal – made up of nine x 34″ ITrans video modules from Screen Technology Ltd.
Hantarex are Screen Technology Ltd's Italian manufacturing and sales partner
Dr. Paul Bayley, Screen Technology's Chief Technology Officer told us "ITrans gives you a bright display which can operate in high ambient light conditions. Due to its modular form it was also easily installed through the standard doorway and it doesn't have the visible seams associated with other tiled display solutions. The 1.7mm resolution ensures that close-up, passers-by enjoy a high definition picture without the image break-up associated with larger pixel LED solutions".
The French Open Tennis tournament runs from May 25th to June 8th 2008 – come on Nadal!