DailyDOOH's editor-in-chief chose his clothes well at last week's Christie Digital MIcroTiles launch event in New York City and looked almost slim in his I-wannabee-Steve-Jobs-Garb – in this case, black polo neck shirt (that's a turtleneck to American readers), black slacks and some very nice Oliver Sweeney shoes!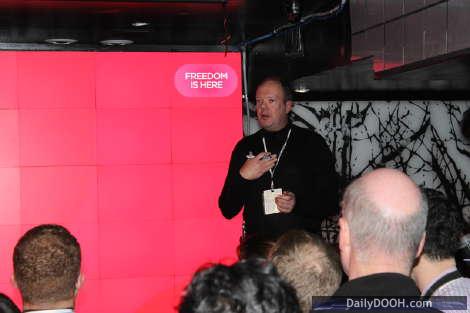 Adrian did a great job as Master of Ceremonies and has probably never presented on such a large screen (shown here in part as the red background). The 'FREEDOM IS HERE' text is actually a button which progresses to the next slide sequence!
Not Microsoft's Powerpoint and not Apple's Keynote but all built bespoke by Arsenal Media [1] using Float4 Interactive. Very impressive.