Adrian J Cotterill, Editor-in-Chief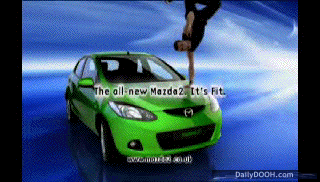 Thanks to Boomerang Digital, this commercial for the new Mazda2 is running across the Healthclub Channel. That is just over 280 Gyms, Fitness Centres and Health Clubs in the UK – brands such as Fitness First, Topnotch, L.A Fitness, Everyone Active etc.
Imagine this playing out in a Gym (perhaps you are on a treadmill or exercise bike) – the content is vibrant, active, colourful and fun.
Best of all I love the tag line "It's Fit" – which I think makes best mention of the environment where the advert itself is showing (something that not many people think about).
All in all – VERY well done.
Creative was JWT, planned by Mindshare (Emma Pollin) bought by Mindshare Outdoor (Nick Bedford)
http://www.mazda.co.uk/Showroom/Mazda2