RedPost's mission is to replace the world's bulletin boards with digital signs and here we see an announcement from them of the launch of a pilot program they have developed in partnership in the vibrant, eclectic Wicker Park and Bucktown neighborhood, northwest of Chicago's Loop.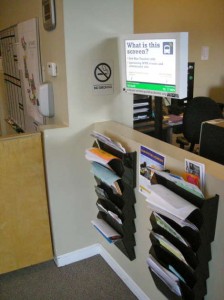 The pilot program consists of thirteen digital signs displaying a combination of neighborhood announcements and Chicago Transit Authority (CTA) Bus Tracker information.
Jamie Simone, Program Manager of WPB, spearheaded the project and told "The signs let shoppers get out of the cold and into a coffee shop, restaurant or store, while still keeping an eye on their bus. CTA had already developed the bus tracker for its own tracking and logistics purposes. We are simply providing that information in a way that is easy to access."
The digital signs are located indoors along the four bus routes that criss-cross the neighborhood, in three cafes, four retail stores, and two community offices, with plans to install four more in coming months.
Shop owners are, we are told, already noticing an increase in business.
"People come in to check the monitor, and invariably they take a moment to look around," said Krista Isaacs, owner of Gallery Café on North Avenue.
The pilot program was a result of WPB's master plan, which was adopted in February 2009 and has received national attention since then, winning several awards. One of the many goals of the master plan is to encourage transit ridership to decrease vehicular congestion and parking pressures in the neighborhood.
RedPost is one of the first users of the CTA's new Bus Tracker Application Programming Interface (API), a publicly available source of data plugged into the CTA's GPS-driven system for tracking when a bus will arrive at the next bus stop.
Eric Kanagy, CEO of RedPost, is excited about expanding RedPost's neighborhood concept into Chicago's urban setting. "We're already getting lots of good anecdotal evidence of the success of the pilot program. We're going to be studying the long term economic impact, and, of course, are looking forward to installing our signs all over the City and throughout the country."
We don't quite understand why the screens are in landscape format and not portrait but an interesting concept nonetheless that has some merit.
About RedPost

RedPost uses simple, off-the-shelf technology to link digital signs throughout a local "neighborhood" that can include a few city blocks, corporate office or university campus. For one-fourth the cost of comparable systems, neighborhood-based sign owners work with RedPost's easy-to-use software to create, distribute, promote and manage the system through the Internet, relying on Wi-Fi access at the signs' locations to pickup their neighborhood-specific feed.