Strong, immediate boosts in sales has prompted Labatt Breweries of Canada [1] to more than double the footprint of its in-store digital merchandising program currently underway in western Canada.
Labatt, one of Canada's longest-established and most successful brewing companies and a member of Anheuser-Busch InBev [2], produces more than 60 quality beers and operates seven breweries across Canada.
Its merchandising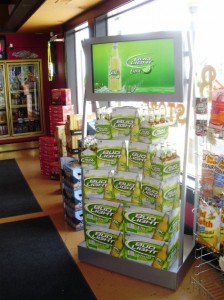 program was developed and managed by Digital Display and Communication [3]s, a veteran digital signage solutions company located in Waterloo, Ont.. DCC is an integrated communications, strategy and solutions agency focused on helping companies launch and then run effective, sustainable digital signage networks.
Labatt will expand the number of its 'POD' digital signage merchandising units it has in the field to more than 500 by early 2010, based on the encouraging results of an initial rollout of 200 units that started in selected Western Canada retailers earlier this year.

Following strong pilot results, DDC was engaged by Labatt to help it develop a true scalable turnkey solution that delivered on a set of well-defined core objectives, such as influencing buying decisions and better controlling sales promotions in stores. DDC was responsible for the technical system design, hardware and software procurement, assembly, configuration and project management for the program, which features an attractive merchandising unit based around a 32-inch LCD monitor and built-in media player. Toronto-based Blake Jarrett & Company [4], which focuses on the design and manufacturing of solution-based, custom retail displays and in-store point of sale programs, engineered and manufactured a highly functional and cost-effective structure to deliver the technology.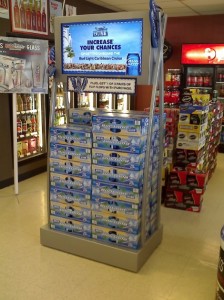 "It was critical that the electronics be pre-installed in a fashion that was rugged enough for shipping and surviving in retail, while at the same time being 'plug-and- play' when it arrived," says Steve Harris, DDC's vice-president business development. "The design styling was kept simple and elegant so the focus remains clearly on the merchandising messages shown on the LCD screen."


The fully-integrated unit can be wheeled into a store, requiring only an available power outlet to start showing videos and connecting to the management network. DDC developed a content plan and provides ongoing content creation and network management services, controlling the deployed PODs remotely using a wireless data network. 


The content is 100% focused on the featured product, with an engaging 90-second content loop intended to influence customers just as they make their beer-buying decisions. DDC also developed an online portal so that national, regional and local Labatt staff – based on access and control rights – can log in and manage POD content. An online template was also developed by DDC that allows individual store operators to set their own pricing.

 The first batch of POD units was rolled out to stores in mid-2009, and had an immediate, compelling effect on sales. 


"The actual results are confidential, but we can say that the sales increase on promoted products in stores that have the PODs, versus those that don't, raised some eyebrows," says Harris. "The numbers were really good, and consistent. We know enough now to believe a POD should be paying for itself within a year of getting plugged in.
"This is a great project for DDC because it brought our full range of capabilities to the project, and the sales results we've been seeing with Labatt suggest this is a formula that can really work in retail."
"DDC really took the time to understand all aspects of our business, developed a solution that met our needs, and then delivered," says Tracey Sivak, Labatt's national customer marketing manager – retail. "They've quickly become a very valued partner for Labatt."