Adrian J Cotterill, Editor-in-Chief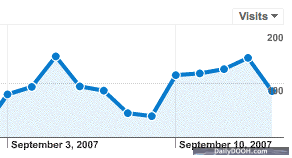 As well as Digital Out of Home I am heavily involved in the Web 2.0 arena. In fact my background is Internet Technology and I fell into digital signage 6 years ago from the Content Delivery angle.
My argument has almost always been that large digital signage networks are not about signage per se (obviously anyone can link a screen to a PC) but about content delivery. This is why Cisco for example will be so successful in this market place (enterprise wide networking – guaranteed content delivery) or people like Broadsign who know that the ASP / Software As a Service (SaaS) model (i.e. building the network, renting / leasing the software) is so important.
As well as having a 1,000+ email distribution list (you have told me when you didn't want to be on it – so it is a very accurate list), this Blog gets between 100 and 200 unique visitors a day.
My technical folks are looking at better implementing the way we manage emails, RSS etc. – the idea perhaps being that you, the user will get to choose whether you want a daily email, a weekly email with the summary of what has happened duriung the week, no emails and / OR just an RSS feed.
I use Google Analytics (itself such a wonderful tool) to keep track of the web statistics and it is fantastic what trends you can see.
For example my top 10 countries for visitors / readers at this moment in time is: –
United Kingdom
United States
Germany
India
Switzerland
Canada
Netherlands
France
Australia
Denmark
And the average visitor stays on the site for just over 5 minutes.
I also extensively use Google Alerts to help keep track of companies and people in the industry. It's free (though – despite a few bugs where you can suddenly get content first put up months ago – it is so good that I would pay for it) and allows you to monitor words and key phases appearing on the Internet.
It's one reason why the closed, subscription model (even if it is free) of information sharing / dissemination sites like AKA.TV don't work well these days. Basicallly any content hidden behind a subscription facade doesn't get searched and therefore the site doesn't get as much visibility as it should.
You can probably get away with that if you are FT.COM but not if you are a niche player.
DailyDOOH has risen from nowhere a few months ago to being prominent in many search results simply by being free and open – good content and great readers helps also of course 😉