Adrian J Cotterill, Editor-in-Chief
Brands wanting to advertise in and around London now have numerous options with digital and anyone driving into London from Heathrow or the M4 corridor will see a whole plethora of innovative digital screens thanks to the likes of City Gateway Media and Ocean Outdoor and now even the likes of Big Sky Banners have a digital option with their relatively new Hogarth Experience.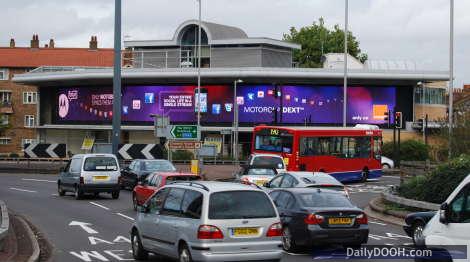 This LED screen opportunity is located on arguably the busiest arterial road out of central London en route to Heathrow Airport, the M4 and M25.
The Hogarth Roundabout, one of London's best known road junctions is situated at the junction of the A316 Great Chertsey Road and the A4 Great West Road.
This screen is viewed head on by three lanes of traffic heading out of central London as traffic exits the roundabout back on to the A4, by three lanes of traffic from the A316 into central London and Chiswick, and by three lanes inbound from the M4/Great West Road.
See also City Gateway Media's West Kensington Digital Wall, London and Ocean Outdoor's Two Towers.