Gail Chiasson, North American Editor
The Coca-Cola Company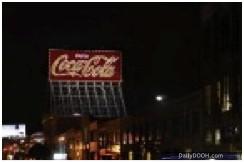 officially 'flipped the switch' Jan. 7, 2010, lighting up its newly refurbished, historic Coca-Cola sign, located in downtown San Francisco, that we wrote about Dec. 2/09.
The relighting also coincided with several environmental initiatives that Coca-Cola is currently introducing in the Bay Area.
Viewed by thousands of people who cross the Bay Bridge every day, the new sign's high efficiency lighting provides the same level of brightness as the previous sign, but with enhanced reliability and greater energy efficiency. With this new sign, Coca-Cola has furthered its corporate commitment to environmental sustainability by converting obsolete lighting technology to a state-of-the-art LED display that is 80% more energy efficient than the previous sign.
The new display was engineered, manufactured and installed by Young Electric Sign Company, a leading manufacturer and supplier of electronic displays in the U.S. During the replacement process, 90% of the metal materials and wiring from the previous sign faces were recycled.
"We have heard from many Bay Area residents about their love for this iconic sign and we are honored that it has become such a beloved San Francisco landmark," said Bea Perez, senior vice-president, integrated marketing, Coca-Cola North America. "The new sign reaffirms our commitment to maintain a positive presence in the community by championing energy management and sustainability initiatives."
A Coca-Cola sign has been on display alongside the southbound lanes of the Bay Bridge for more than 70 years. The new 70' x 30' sign is roughly the same size and appearance as the previous sign. The new sign also features the familiar Spencerian script of the Coca-Cola logo on both the north and south faces of the display.
Along with new sign, Coca-Cola is also introducing PlantBottle, a 100% recyclable bottle made partially from plants, which reduces Coca-Cola's dependency on petroleum. For select markets in the Western United States, including San Francisco, Seattle and Los Angeles, PlantBottle packaging will be used for certain sparkling beverage brands and DASANI water in several sizes starting in January.
'Live Positively' is The Coca-Cola Company's commitment to make a positive difference in the world through sustainability efforts.