Adrian J Cotterill, Editor-in-Chief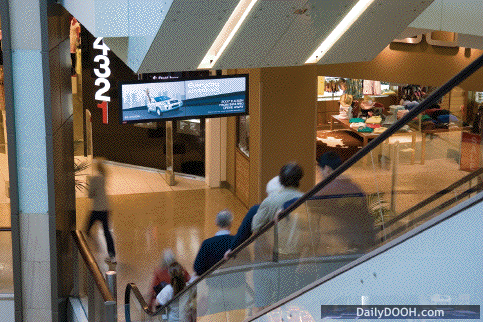 It was hard to get the scale of the Landscape Digital screens in the earlier post(s) about EYE and a couple of folks asked how big and which technology.
The Landscape Digital displays are Orion MDPDs and as such are 42″ each. EYE configure them side by side in a 32 x 9 configuration.
The units shown in the picture above in Shop Australia are pretty much all 2 x 1 screens. EYE also tell us they have them in 4 x 2 in Manchester and we have seen them ourselves in 6 x 3 in Changi (Singapore).
Stephen Rubie, Group Manager – Design & Innovation at EYE tells us "… size is all about the viewing distance, in shops they are placed in the classic empty moment of Bulkheads, or in this case pole mounts on a down escalator ride. Viewing distance is quite short so impact is maximised with 2 x 1 screens. We see this as a premium location in a mall for marketing messages"
Interestingly, especially given are hatred of (most) TV style digital out of home, its nice to see that EYE created the 32 x 9 or 3.5:1 ratio display format to differentiate from any form of TV styled content.
Stephen Rubie says "this format provides an evolution of existing static OOH formats like lightboxes and is also consistent with the format of on line banner ads"