Adrian J Cotterill, Editor-in-Chief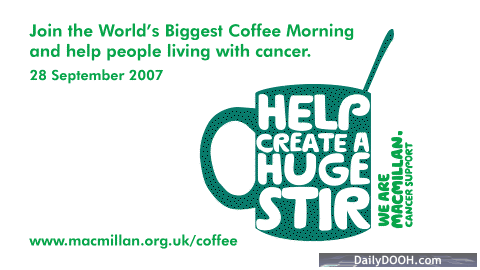 As you know here in the UK we have been working on a digital signage campaign for Macmillan Cancer Support that ran across 20 different networks. I have blogged about this a couple of times before.
Amigo Digital who were selected to produce the content have just released a press release which nicely summarises and documents the campaign itself.
Most important of all is the big thanks to The Screen industry association and Screen Networks themselves that kindly donated air time; Big Media Group, Brightspace Media, CAN Media, Captive People, City Gateway Media, Community Image, Digital Screen Networks, Firebrand Media, Gym-TV, I-VU, Kaleidovision, Liquid Digital, Community Network, Obus Plc, On Screen Solutions, Point Four, PosterPlus, Motional Media, TEAMtalk Broadcast and Remote Media.
This meant that the campaign rolled out in such prestigious brands as Costcutter, Edwards, Jacksons, Moto Services, The Life Channel, Thompson Travel, Travelodge, Virgin Megastores, WH Smith and many others.
Alex Hughes, partner at Amigo Digital, said in the press release "Amigo was delighted to work with Macmillan; working with such a distinguished brand and being able to help ease them into the world of digital signage and digital out of home was an incredible experience. Also, working with such a wide range of the best screen networks in the UK gave us the opportunity to develop innovative ways to meet the issue of different screen sizes, formats and resolutions as well as figuring out ways to easily handle the content distribution."
http://www.iamigo.co.uk
http://www.macmillan.org.uk/coffee