Most of the major DOOH networks across the US have pitched in to help with Haitian relief advertisements, some developing their own ads; most running ads developed under an initiative of Matthew Stoudt, CEO of Outcast [1]; some running ads developed by The Advertising Council [2]; and many running a combination of these.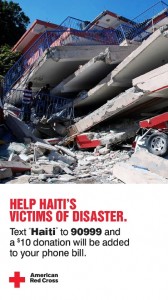 [3] So whether Americans are shopping in grocery stores, retail malls and stores, pharmacies, visiting doctors' offices, working out at the gym, or passing buses on the street, they are seeing ads urging them to donate, mainly through texting to the American Red Cross [4].
Stoudt was familiar with Haiti, having visited there two years ago and, through Focus on FoKAL, a cultural centre created by philanthropist George Soros' Open Society Institute [5], had met then-Prime Minister Michèle Pierre-Louis, her daughter Babette Pierre-Louis and Marianne Faurobert working at FoKAL, and many artists, economists and others working towards building Haiti as a stronger, viable, democratic country. When the recent earthquake struck, Stoudt received the simple message from Faurobert, "Can you help?"
With that, Stoubt sprang into action and called the presidents of Zoom Media [6], AdSpace Networks [7], IndoorDIRECT [8], Captivate Network [9], PumpTop TV [10], Premier Retail Networks [11], CBS Outernet [12], and TargetCast Networks [13]. Usually in competition with each other, they, as a group, reached out to the Red Cross, and the result is thousands upon thousands of screens running simple 15-sec. message spots urging people to text a donation to the Red Cross via 'Haiti' at 90999.
"And not just occasionally, but at high frequency," says Mike DeFranza, president and general manager, Captivate Network, adding that Captivate in Canada is also running content urging people to the website where they can learn of various groups accepting donations.
"A unified message will run on over 40,000+ screens and reach an estimated 100 million Americans monthly," says Stoudt. "I am so proud of my colleagues in the industry."
But these aren't the only ads running. AdSpace is running both the text ad and its own 15-sec. ad, "developed because we couldn't wait," says Dominick Porco, chairman and CEO, AdSpace Networks, New York. "We wanted to get out there quickly."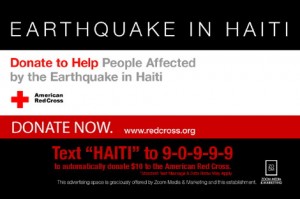 [14]And Zoom Media has produced an advert and is also running Ad Council ads – with sound where available.
These latter ads, one with First Lady Michelle Obama asking for donations to the Red Cross and the other with past-Presidents Bill Clinton and George Bush, appealing to people to give to the Clinton Bush Haiti Fund [15], are running on Zoom's Sight Sound Motion fitness venues. (Zoom in Canada and others are also running ads for Haitian relief.)
The Ad Council put up its first text PSAs on Jan. 15. The Outdoor Advertising Association of America [16] and Lamar [17] simultaneously reached out to the Ad Council who was already working with the Red Cross to get a digital outdoor image created and distributed. The work, developed internally, was sent to the entire outdoor industry through the OAAA and posted on the OAAA site. In addition, 266 digital Lamar boards are running the Haiti Red Cross work. Others, including Clear Channel [18], have also picked that up.
The Obama and Clinton-Bush ads were produced specifically for this disaster relief effort and can be seen on the Ad Council website. Among those who have also picked these up to run is the Health Media Network [19].