Fred S. Mandelbaum from vidision a division of :3C! Technologies certainly knows how to appeal to our vanity. For those who don't know :3C! vidision, they are a leading innovator in Interactive kiosk technologies for retail and banking, Digital Signage, DOOH and Conferencing.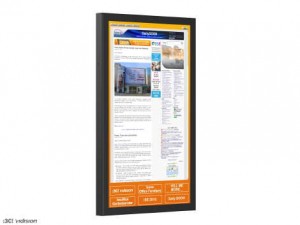 Fred emailed us this week to say "Like last year we are developing a touchscreen user interface for ISE, offering relevant, up-to-date online information links and wayfinders next to examples of our projects".
He continued "Last year we had the engadget blog as a featured link, but DailyDOOH is for sure much more relevant to the ISE audience".
As you can see from the picture on the right, our blog looks and handles quite nicely on their 46″ FullHD interactive Portrait MediaTower!
Visit their booth 11i35 and have a play for yourself. They will also have on their stand the 1.5m high triple 24″ FullHD Mediasigns and the 22 and 24″ FullHD Portrait Kiosks.