A more pictorial look at this year's featured CEOs' networks is NOW available in print in DOOH INSIGHTS: Volume 7 [1] in London at least, the New York distribution will start in October during New York Digital Signage Week [2].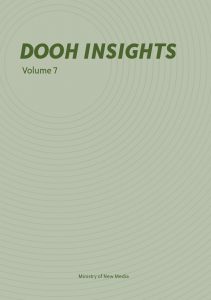 We kicked off 2018 undertaking interviews with Karine Moses, President, Astral at Bell Media and Vice-President, Bell Media Sales Québec (TV/Radio), Montreal [3], Mike Tyquin, CEO, Adshel , Sydney [4], Candice Simons of Brooklyn Outdoor [5], Jeroen Hillenaar of Hillenaar Outdoor [6] and Ben Walker, Shopper Media Group [7], Australia.
In print it is there (so, some exclusive content for the paper readers) but online it will end the year, is a VERY special CEO Spotlight where we welcome back [8] François de Gaspé Beaubien, Chairman and Chief Coaching Officer of ZOOM Media, Executive Chairman of Ayuda Media Systems, Executive Chairman of Hivestack (majority owner of all three) and Chairman of the Digital Placed based Advertising Association – we first interviewed François back in July 2008, Ed.
In 2017, we interviewed Clear Channel Outdoor's Scott Wells in February [9], Grandi Stazioni's Stefano Mereu in March [10], PRN's Kevin Carbone in April [11], Core Out of Home's Umut Senol (formerly Clear Channel Turkey) in May [12], Val Morgan Outdoor's Anthony Deeble in June [13], Elonex Outdoor's Nick Smith in July [14], Go2Digital's Edin Pasalic in August [15], Adams Outdoor Advertising's Kevin Gleason in September, [16] Westfield's Charley Delana in November [17] and lastly Vasco Perestrelo from Multimedia Outdoors Portugal.
All earlier CEO Spotlights [18] (and we have 10 years' worth now) are available online (click here [18]), as well as in print in the following series of books: –