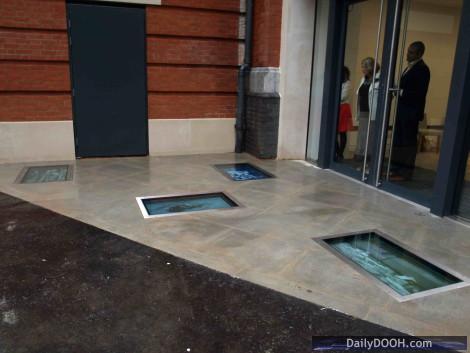 We are not sure we necessarily like this as a piece of modern art – at least just looking at the pictures but we will try to find our way to it in person and make a second opinion.
The picture shows a specially commissioned permanent public artwork 'Fragile by Idris Khan' using Flasma floor screens [1] on view at 7 Howick Place, Westminster, London…
By installing the screens in the ground, Khan encourages the viewer to look down and even walk over them; this action adding a unique sculptural feeling and a strange potency to what is seen. Those familiar with Khan's work will know his signature practice of layering images of photographs, paintings and film. This inherent process of repetition to reinforce a statement, sentiment or written word is here transformed into a collection of films inspired by the history of the building.
Idris Khan told us "I became fascinated that Howick Place was a building that contained so many thoughts and words flooding through it daily and that its new function would also be a place of ideas and creativity. The films show me ripping, throwing and sketching and stamping played in reverse, slowed down or sped up. By manipulating time we enter into a utopian world whereby complicated or easy tasks look beautiful and mesmerizing"

Fragile is played across a set of Flasma 42" Sunlight Readable LCD Screens embedded into the pavement and we are told that this is the first ever outdoor installation of Flasma floor-mounted LCD screens in the world.
Howick Place is a former Royal Mail Sorting office that has been newly converted into a space dedicated to art, fashion and design in London's Victoria.