Are PRN making more noise now or have they always done and we just missed it?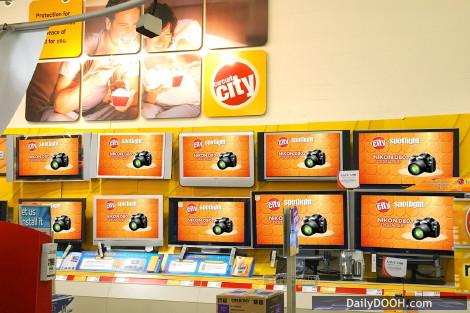 In May Julien Marcel, VP of PRN International (and Chairman and CEO of subsidiary Screenvision Europe) kindly interviewed with us in Paris for that month's CEO SPOTLIGHT [1]
Recently we have seen a number of press releases including last week's Bon Appetit [2]
There are rumours of an imminent announcement between PRN and STRATACACHE and we even notice that PRN are on the speaker list for September's Viscom Europe event in Paris [3].
Yesterday we saw a simple announcement from them just saying that their relationship with Circuit City was still going strong (see below) but it continues the theme of them raising their profile in the industry.
What many Europeans really want is more information on their work in Poland with Carrefour – you hear lots about it BUT you don't (actually) hear lots about it if you know what we mean.
Clouded in secrecy is it going well? What does it look like? How big will it get? Do Carrefour like it?.
The latter being an important question actually cos' we don't see any other Carrefour rollouts in Europe with PRN.
We have seen in Greece, the Carrefour Athens rollout with 9 stores [4] – which by the way looks great and by all accounts is going very well.
Thomson¹s PRN and Circuit City Stores, Inc. Agree to Extend Longstanding Relationship

PRN to continue providing in-store programming and technology solutions for retailer¹s in-store media network

(SAN FRANCISCO, July 7, 2008) ­ Thomson¹s Premier Retail Networks, Inc. (PRN), the world¹s most experienced provider of digital media solutions at retail, and Circuit City Stores, Inc., a leading specialty retailer of brand-name consumer electronics and related services, today announced an agreement to enter into an extended multi-year relationship. PRN and Circuit City have been in business together since 1994.

As part of this new agreement, PRN will provide Circuit City with upgraded servers that are capable of running PRN¹s new IPTV platform, which was recently tested in more than 25 Circuit City stores. PRN will also continue to supply Circuit City with in-store programming, technology and network operations for the retailer¹s media network, as well as programming which
enhances the merchandising of HDTVs and Home Entertainment products.

³PRN¹s programming and technology solutions are a key component of our in-store experience,² said John Harlow, executive vice president and chief operating officer for Circuit City. ³We¹re excited to continue our successful relationship with PRN and upgrade the capability of our network.²

³PRN¹s network platform helps merchandise HDTV Home Theater products which represent a significant portion of Circuit City¹s business,² said Richard Fisher, PRN president. ³We¹re thrilled that we can continue to provide a successful retail media solution for Circuit City. This renewal signifies that our retail partners keep coming back to us as the trusted leader in providing effective merchandising solutions.²

Thomson¹s Premier Retail Networks, Inc. (PRN) enables retailers and manufacturers to reach consumers in over 6,500 leading retail stores worldwide. PRN works with retailers, content partners and advertisers to create in-store programming that engages, informs and motivates consumers where they shop. PRN¹s retailer customers include ACME, Albertsons, Best Buy, Carrefour, Circuit City, Costco, Jewel-Osco, Pathmark, SAM'S CLUB, Shaw¹s, ShopRite, Star Market, and Wal-Mart Stores.