Adrian J Cotterill, Editor-in-Chief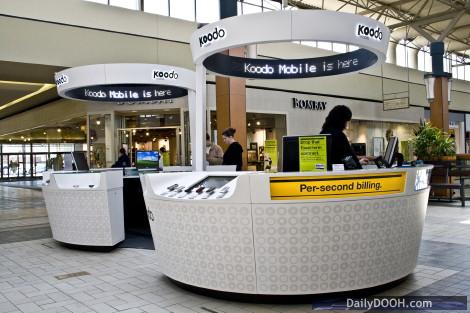 We are looking forward to seeing these in person next week when we are in Toronto (a busy next week sees us at Farnborough Air Show Monday, flying to New York Tuesday, in Toronto Weds and Thursday and New York again all day Friday).
We believe that there are several Koodo Mobile kiosks in the GTA; Sherway Gardens (West), Toronto Eaton Centre (Center), Yorkdale Mall (East) and Scarborough Town Centre (East).
ADFLOW Networks of course are a provider of web-hosted digital signage and interactive kiosk web applications and it is they who announced last week that they have provided Koodo Mobile (Canada's newest mobile service provider) with this interactive kiosk technology for new Koodo Mobile retail mall locations across Canada.
Mike Drennan, director of retail store operations for Koodo Mobile said "ADFLOW Networks hit a home run with their product and customer service, our customers love the interactive kiosks and our sales representatives are using them as a sales aid. ADFLOW's adaptable interactive kiosk technology provided us with a sound solution that engages and informs our customers through the sale process."
Koodo Mobile commissioned ADFLOW Networks to provide their Dynamic Messaging System™ with interactive touch screens, content triggering system integrated to the security tethers and LED reader board integration, within a newly designed in-mall sales kiosk (shown in picture).
About ADFLOW Network

ADFLOW Networks offers a powerful marketing medium which enables any organization to create, manage and deliver dynamic point-of-purchase advertising to digital screens located anywhere in the world. ADFLOW Networks provides an industry-leading, web-hosted solution for the deployment and operation of digital signage and interactive kiosk networks on a common backbone and for the online management of digital media supply chains. ADFLOW Networks had been successfully delivering its solution to North American retailers since 2000. The ADFLOW DYNAMIC MESSAGING SYSTEM™ is simple to deploy and requires zero I.T. infrastructure.