Adrian J Cotterill, Editor-in-Chief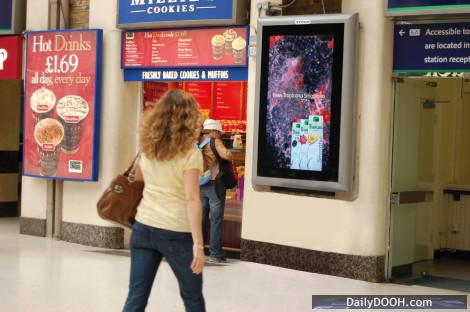 The big UK announcement in outdoor this week was Titan Outdoor's press release "Titan invests millions in digital roll out" AND whilst the story has been covered elsewhere, as usual, no-one has looked at it in any depth…
In a nutshell three things; (1) Titan are now catching-up Digitally with their competitors, (2) this is a great win for Dynamax's Point of View NG3 software and (3) GDS AND iblink are the ultimate double winners of the hardware platform.
Overall it's actually an incredibly interesting announcement. To some extent Titan have had to play catch up in the UK digital space – Clear Channel especially have been very aggressive and very innovative and their deals with Vision Media Group (VMG) for Shopping Malls (was an inspired strategic decision) and their new Socialite offering, in conjunction with Inspired Gaming Group is interesting but the jury is still out on that one. Clear Channel of course have also unveiled some nice large format LEDs around London.
CBS Outdoor and JCDecaux have also all made great progress with their digital offerings in the UK (London Underground and one almost pure Digital Mall coming for the former and of course great roadside and a fantastic airport offering for the latter).
You know what though, Titan needn't have ever played catchup when you think how innovative, how large, how good and how pioneering their original Transvision offering was and is – they just needed to keep that trend going!
So, what was in the press release and what wasn't?
First off, we think that Titan have inflated the overall expenditure a little bit – we are not quite sure how they arrived at a nice round figure of UK PDS 2 Million – we doubt if they will ever break it down for us but we know that 100 x digital 6 sheets would actually cost iro UK PDS 600,000 (yes that low in bulk!!!).
Installation (including network) and Software etc adds to that figure of course – probably enough to make a million but NOT enough (we feel) to make 'millions'.
The press release hints at some other digital initiatives from Titan and also talks about their likely US investment going forward so well worth a read (complete press release is at the bottom of this post).
The one statement we do take issue with in the press release is the line "Uniquely, the units are thermally-managed and optically-bonded to ensure 100% up-time and to allow passers-by to view the image clearly from any angle"
All of the 6-Sheet units we have (ever) seen ARE thermally managed and nearly all ARE bonded so that hardly counts as 'unique' and the 100% up time statement is just plain stupid – just ask CBS Outdoor and TELentice – and by the way Dynamax software runs on a Windows platform too!
The bidding for supply of digital 6-sheets will have been tight, Esprit Digital will have lost out big time as they had some units on trial with Titan late last year, see our post "Titan Outdoor trial an Esprit Digital 65″ digital poster at Brent Cross" and a couple of other more well known fabricators will also be crying in their beer this week.
The press release states that "The new digital six-sheets (known as D6s), supplied in partnership with iblink" but the truth is the units are being manufactured by GDS – one of the co-owners and investors in iblink.
It's worthwhile putting the UK PDS 2 Million spend in perspective. We have worked out that Clear Channel will have to invest something like UK PDS 3.5 Million in pubs with Inspired Gaming Group to get to the scale that they have suggested they want to get to AND a whopping UK PDS 4 Million in Malls with Vision Media Group – again to get to where they want to be by end of 2009.
Where Clear Channel have been clever is with the JV approach – we believe that all of that investment is 50 / 50 with their partners.
It's only in roadside with LEDs where Clear Channel will be spending UK PDS 1 Million of their own money.
Lastly I guess we must mention Bluetooth. We predicted the demise of it this year in terms of marketing and deployments but it seems to be hanging on in there. This week's announcement from Breeze Tech and their deal with JCDecaux in Australia was a big shot in the arm for it and we have seen renewed interest from the likes of Posterscope with it here in the UK as well.
We still think giving free wi-fi and a call to action on billboards and screens is better than push-marketing, irritant Bluetooth but look forward to seeing how much use it gets on this new Titan network.
Titan invests millions in digital roll out

8 July 2008

Titan Outdoor, the dominant provider of advertising solutions in the UK Rail environment, will install over 100 digital six-sheets at major stations across London.

The £2 million roll out is expected to be completed by the middle of October at key rail termini stations such as Waterloo, Victoria and Liverpool Street. It marks the first phase of Titan's digital expansion across its UK rail estate, building on its pioneering Transvision network established in 2002.

The new digital six-sheets (known as D6s), supplied in partnership with iblink, use 65-inch high definition screens producing extremely clear, bright images. Uniquely, the units are thermally-managed and optically-bonded to ensure 100% up-time and to allow passers-by to view the image clearly from any angle.

The ability to deliver animated content gives advertisers far greater flexibility, and remote management of the screens speeds up changeover times between campaigns. The screens also have Bluetooth capabilities to enable advertisers to interact with nearby consumers on their mobile phones.

This investment forms a key part of Titan's larger commitment to digital media. In the US alone they will be investing upwards of $75m over the next 3 years across their Bus, Rail and Outdoor inventory catapulting them to the forefront of Digital Out of Home in the country. Plans are currently being investigated for digital expansion into other parts of Titan's UK estate, including retail and roadside.

Jon Slatkin, Chief Executive of Titan UK, said:

"This is a major and exciting development in the expansion of Titan's digital rail offering. We have conducted extensive trials and analysis to ensure that this is a product advertisers really want and need. Rail is the ideal environment for digital, with longer dwell times and more relaxed surroundings than in other commuter spaces. We estimate that by 2011, almost half of all our rail advertising revenue will come from digital."
Jon Slatkin is not the only person in the industry excited, we spoke to a number of people in the industry who all shared the excitement of the announcement.
James Davies, Board Director – Hyperspace was one of the most enthusiastic and told us "I feel this is another important step in the development of the sector helping to significantly grow audiences and Titan's decision to create a network that allows creative consistency with other environments such as airports, underground, malls etc is a sensible one"

Well done Titan!