Adrian J Cotterill, Editor-in-Chief
Gary Kayye, CTS is founder of rAVe [Publications], a USA‐based publishing firm that specializes in writing about the ProAV and HomeAV markets, technology and products in a very opinionated, editorial‐style of writing.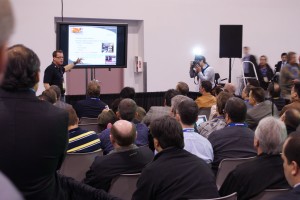 He was recognized as InfoComm's Educator of the Year in 2004 and NSCA's Instructor of the Year in 2007, Gary founded rAVe, after having spent 11 years at Extron and AMX as VP of Sales and Marketing and then
as Chief Visionary of Kayye Consulting, Inc.
He has served on the InfoComm Board of Governors, as the chairman of the Projection Shoot‐out, InfoComm's Professional Education and Training Committee and NSCA's Industry Advisory Board. He is a lively and fun speaker and every time he speaks, he mixes a visionary look into the future with a keen eye on how to get there.
Here we see him presenting to a packed house at DSE in Las Vegas – people were literally standing in the aisles.