Gail Chiasson, North American Editor
While iPhone apps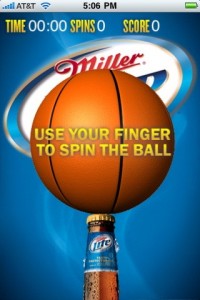 are in the multi-thousands, this new one from Miller Lite drew our attention: the beer brand's Tip 'n Spin, launched in time for March Madness, the National Collegiate Athletic Association Basketball Championship.
The new application provides a unique, fun experience for legal-drinking-age basketball fans by allowing them to compete and earn points by balancing a basketball on a Miller Lite bottle with their iPhone. The application was created by digital agency Digitas in partnership with U.S. mobile media agency MediaMob.
Tip 'n Spin, MillerCoors' sixth iPhone app, is an example of how a leading consumer packaged goods brand is embracing mobile technology to tap into passions of their audience. The application is integrated with Miller Lite's March hoops marketing campaign that is rolling out nationwide. Fans can download the app from iTunes or the App Store on their iPhone or iPod Touch and can play, earn points and then later share the results with their friends on Facebook.
"We're thrilled to be able to provide our fans and their friends with a fun and engaging way to connect with their favorite light beer as they enjoy March hoops," says Mike Davitt, Miller Lite marketing manager. "Mobile applications have been a huge hit with beer drinkers."
The application provides an easy tool to add fans to the 'Miller Lite Taste Nation' Facebook page, as well as a landing page within the application to drive downloads for other mobile applications from MillerCoors. Additionally, a promotional video for the app will be featured in an online ad on CBSsports.com during the March basketball tournament.
Founded in October, 2009, MediaMob Inc., a premier U.S. mobile media agency, provides innovative mobile marketing solutions for brands, media companies and their agencies. The company offers a 360-degree approach to creating, developing and promoting cutting-edge mobile applications that allow world-class companies to engage with their customers at the deepest level possible.
Digitas is a leading digital marketing agency, helping the world's biggest brands develop, engage and profit from building profitable relationships with their customers. The Agency pairs media, marketing, technology, creativity, imagination and analytics to ignite emotional bonds between people and brands. Digitas also operates the brand content platform, The Third Act:, the independent healthcare marketing brand, Digitas Health, as well as Prodigious Worldwide, the world's only standalone, global digital productions company. With sister agencies Starcom MediaVest, ZenithOptimedia and Denuo, Digitas is a member of Publicis Groupe's VivaKi—a global digital knowledge and resource center that leverages the combined scale of the autonomous operations of its members to develop new services, new tools, and new partnerships. Paris-based Publicis Groupe S.A. is the world's third largest communications group, the world's second largest media counsel and buying group, and a global leader in digital and healthcare communications. With around the world activities spanning more than 104 countries on five continents, the Groupe employs as many as 44,000 professionals.