Adrian J Cotterill, Editor-in-Chief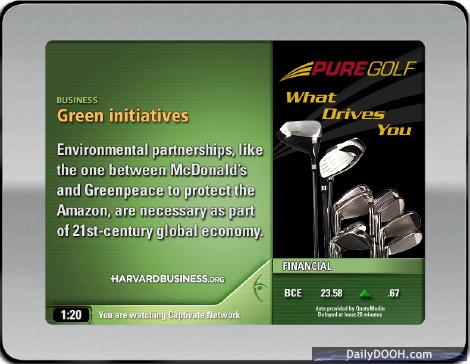 Earlier this month we interviewed Mike DiFranza from Captivate Network (the North American digital out-of-home news and entertainment network) for our July CEO SPOTLIGHT feature and he touched on their network's uniqueness when scheduling and doing content and here we see an official release from them on exactly how they have most recently expanded their 'programming focus'.
Mike told us earlier this month that "Captivate has taken a radically different approach to other networks with having live and original programming and valuable local information and the creation of blogs that brings our content to the viewer's desktop"
He firmly believes that the network must earn the viewer's attention with engaging content and to do that they employ a LIVE editorial team, not RSS feeds, in order to hand-select and boil down information into readable, digestible tidbits to feature on the network.
As he says "RSS feeds can't do that"
Today (July 21, 2008) Captivate Network announced a number of new content partners and several product offerings designed to continue to engage its audience of affluent consumers and office workers during the day.
Its business editorial offerings have been strengthened by partnering with BusinessWeek, Harvard Business Review, Crain's New York Business and Crain's Chicago Business
That brings the total number of content partners to over 100 across categories such as news, health, entertainment, travel and business.
In addition to all of this, Captivate is expanding its local capabilities via "Local Link" and has produced a number of consumer facing blogs with a witty twist.
Here we see Captivate having the money and the balls to have a dedicated group of interactive editorial staff, many of whom have strong journalism backgrounds that allows them to provide breaking news coverage and live programming features to more than 23 cities throughout North America!
Market research has shown that many of Captivate's viewers (50% in actual fact) cite the elevator network as their primary source of news during the day.
Captivate's 'Local Link' capability enables the company to deliver local messages, customized event listings and news, like weather and ski reports, to the North American cities the company reaches every day – 30 percent of Captivate's stories and features are customized to the local level which is a great way of engaging their audience.
Some examples of local news that they have given are: –
Prior to a weekend trip to Cape Cod, a viewer could see real-time
weather updates specific to the greater Boston area
Office tenants in Montreal would view customized French programming
using popular local content providers
Tenants in New York could be alerted to public transportation delays
If you want to take a look at any of the blogs based on the topics most popular amongst Captivate viewers, take a look at the following
Book Break. Captivate reminds viewers to read, as Editor Kate Scanlan reviews the newest books on the network via her Book Break blog at www.captivate.com/book-break
Green Among Gray. Captivate Editor Kyle Scribner delves into tips and other ways to stay green while working (and living) in the concrete jungle at www.captivate.com/green-among-gray
Indulge. Jacqui Pini invites readers to share her love of indulgent spa treatments, beauty fads and relaxation techniques for both men and women at www.captivate.com/indulge
ABOUT CAPTIVATE

Captivate Network is the North American news and entertainment network that delivers quality programming and advertising to a highly desirable and targeted audience during the workday, when they are making business and personal buying decisions. Captivate is one of the most effective advertising vehicles available, earning a high 48% average total ad recall, according to Millward Brown studies*. Captivate's network is seen in a distraction-free viewing environment, on wireless flat-panel television screens in the elevators of premier office towers across North America.

Currently, Captivate is seen on over 8,400 screens, delivering more than 55.6 million impressions per month. Established in 1997 and headquartered in Massachusetts with offices throughout North America, Captivate Network is a Gannett company.