AW Media, the specialist media buying and planning agency, is working with Ram Vision, The Digital Out Of Home Specialists in mall advertising and creative, to test market interactive advertising for Disney Live! at two Liverpool shopping centres.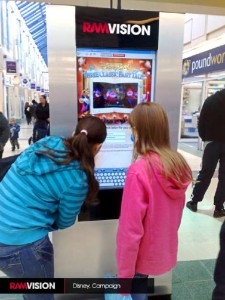 Each centre features two large format plasma screens running advertising for the shows plus details of a family ticket competition. The separate touch screens are web browser based allowing consumers to both purchase tickets and enter the competition by guessing the name of the pixilated princess.
The touch screens are updated remotely from Ram Vision's London HQ and consumer responses are in turn fed back from the site.
The test campaign is for the Disney Live! show Three Classic Fairy Tales taking place at the Liverpool Echo Arena from March 26 to 28. The malls running the pilot are Belle Vale in the city centre and Port Arcades in Ellesmere Port.
Katy Websdell, media director at AW Media said "The key benefit of this pilot interactive campaign is total measurability. The touch screens enable us to identify how many people have clicked onto a unique page and to collate data directly from the public. It's also cost effective for the client because they are able to adapt existing digital content that may have already been created for their website. Compared to traditional print and television advertising any amends or updates can be made immediately."
Adrian Hopper, Head of Marketing at RamVision told us "We look forward to sharing the full results of this innovative campaign with both AW Media and the client. Currently the interactive touch screen units are being trialed in just 6 of our 50 shopping malls and this type of project provides us with invaluable feedback on their potential to roll out to the rest of the estate."
This is the first time interactive touch screens are offering shoppers more than a simple guide to the mall, while the client is assured of unrivalled measurability compared to traditional media campaigns.