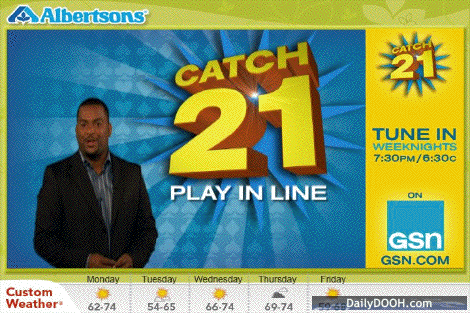 We see that Thomson¹s PRN and GSN [1] have teamed up to co-produce content for a new game show, CATCH 21, which will run on PRN's Checkout TV Network Screens in Supermarkets.
The idea is an interesting one – basically shoppers can play CATCH 21 (hosted by Alfonso Ribeiro) whilst in the supermarket queue.
Called 'Catch 21 In Line' we are told that it combines elements of GSN's game show 'Catch 21' but customised for shoppers on PRN's Checkout TV network and including a GSN campaign
promo designed to get shoppers to tune in to the show itself.
The PRN press release says "As shoppers wait in line, they are invited by a message from host Alfonso Ribeiro to play the game by answering trivia questions worth a total of 21 points".
The campaign runs through August 3, 2008 in 1,004 supermarkets that offer Checkout TV .
About GSN

GSN is an industry-leading, game content provider distributing competition programming through its 66-million subscriber cable television network and its casual and online competition games site, GSN.com. As the premier television network for games, GSN produces some of the most popular original game tournaments and free games. GSN is distributed throughout the U.S. and Canada by all major cable operators, satellite providers and telcos. The company is jointly owned by Sony Pictures Entertainment and Liberty Media Corporation.