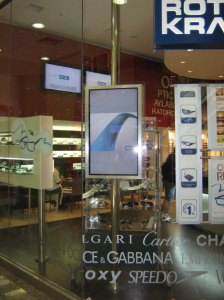 Founded in 1914, R&K are one of Chile´s biggest Optician chains with more than 40 stores across the country as well as over 150 concessions in Chile's biggest department stores (Falabella, Paris and Ripley).
R&K sell sunglasses from wellknown brand names, optical glasses, contact lenses and hearing aid devices and wanted a way to advertise the products they sell whilst also providing a relaxed and interesting atmosphere in their stores.
Here we see them having chosen a digital signage system from ONELAN that is also used to play out audio in-store.