Cadbury Creme Egg advertisements are always a lot of fun and a bit of a UK tradition in the lead up to Easter and here we see a great campaign booked by PHD through outdoor specialist Posterscope running on Amscreen's Forecourt network of digital screens.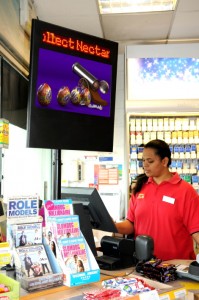 The animated campaign which started earlier this week is running on 620 screens and shows a queue of Creme Eggs jostling to be the next to be fired from a cannon onto a Cadbury's purple wall.
As the next-in-line egg flies through the air and splatters onto the wall, the traditional Creme Egg 'goo' reveals the number of days left until Easter Day and the 'end' of Creme Egg season.
Chris Forrester, Digicom's MD of Sales & Marketing told us "The flexibility of Amscreen's network makes daily copy changes straightforward so creative campaigns such as these are easy to book and play. The screens have been proven to deliver very strong brand awareness running right at the point where Creme Eggs can be bought."
Simon Sugar, CEO at Amscreen was quoted as saying "Our forecourt network allows brands such as Cadbury to reach out to over 12 million motorists up and down the country every fortnight. Our technology also ensures that screens are constantly connected and broadcasting the correct information, giving Cadbury peace of mind throughout the campaign. By June the network will be reaching 40 million people per fortnight."
Nota Bene
As my youngest girl told me yesterday fresh from skool "Easter is about Jesus not about chocolate" – Ed