Clear Channel Outdoor has signed up to be the outdoor media partner for WWF's Earth Hour 2010 – the global campaign to raise awareness that climate change demands urgent action.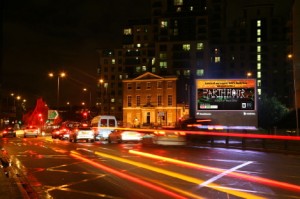 On 27 March 2010 at 20:30 GMT for one hour Clear Channel will be turning off the lights at offices and landmark sites. In the lead up to the event, Clear Channel will also be promoting Earth Hour on its roadside Digital LED network, flagship Piccadilly Lite site and digital panels in shopping malls across the UK.
Clear Channel Managing Director, Rob Atkinson told us "Our commitment to the environment is deeply engrained across our business and our hard work in improving our sustainability performance has led to us being named one of the UK's Top 50 Green companies* for the past two years. We are committed to helping the WWF spread the word in its drive to mobilise one billion people worldwide to sign up to Earth Hour and address the worldwide threat of climate change."
Dax Lovegrove, WWF-UK Head of Business and Industry was quoted as saying "Climate change is one of the most serious threats facing people and nature, and demands urgent global action. Last year, world leaders missed a key opportunity to agree a global climate deal in Copenhagen, but with each year of delay, the impacts on people and wildlife get more severe and the window of opportunity gets smaller. Businesses have a key role to play in the fight against climate change – both in terms of prevention and adapting to its worst impacts. The support so far for Earth Hour proves that, even in tough economic times, the appetite for change among the private sector is there."
*The Sunday Times
About Earth Hour

Earth Hour is a global WWF climate change initiative. Individuals, businesses, governments and communities are invited to turn out their lights for one hour on Saturday March 27, 2010 at 8:30 PM to show their support for action on climate change. The event began in Sydney in 2007, when 2 million people switched off their lights. In 2008, more than 50 million people around the globe participated. In 2009, hundreds of millions of people in more than 4,000 cities and towns across 88 countries switched off their lights for one hour. WWF-UK is the UK arm of the WWF Network, the world's leading environmental organisation founded in 1961 and now active in over 100 countries. WWF's mission is to stop the degradation of the earth's natural environment and to build a future in which humans live in harmony with nature, by conserving the world's biological diversity, ensuring that the use of renewable natural resources is sustainable, and promoting the reduction of pollution and wasteful consumption. Using our unique combination of practical experience, knowledge and credibility, our 300-strong staff work with governments, businesses and communities both here in the UK and around the world so that people and nature thrive within their fair share of the planet's natural resources.