EYE tells us that it is proud to help UNICEF UK to improve the lives of children around the world by supporting Soccer Aid.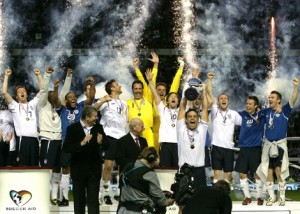 UNICEF Ambassador Robbie Williams set up Soccer Aid back in 2006 with the aim of bringing together celebrities and football legends to form two teams to fight it out on the football pitch to raise money to help children around the world.
Hosted by Dermot O'Leary, this year's star-studded line up includes: Ricky Hatton, James Corden, Gordon Ramsay, Alan Shearer, Jamie Redknapp, Henrik Larsson and Westlife.
The fundraising football match will be broadcast live on ITV1 and is set to take place on Saturday 6th June at Manchester United's home ground, Old Trafford.
All money raised through profits from ticket sales and donations made by viewers during the match will go towards UNICEF UK's invaluable work with children around the world (over one million children have already been helped with the proceeds from previous events).
EYE's campaign to promote the event will be displayed across the complete digital network at Manchester Airport and will utilise eye-catching animation to reach 100% of departing and arriving passengers as they travel through the terminals in the run up to the event.
Philippe Luzy, Line Producer, Endemol UK told us "We are delighted with the Soccer Aid campaign at Manchester Airport and the support provided to us by EYE. Soccer Aid is taking place at Old Trafford on 6 th June, so it is very much a local event for the whole nation to enjoy with an international consciousness."
Alan Gibbons, Group Sales Manager Eye Fly UK was also quoted as saying "The Digital Eyelite network is designed to deliver multiple impacts to Flyers as they travel through the airport and the cutting-edge Landscape Digital is strategically positioned to take full advantage of dwell time, helping to ensure the success of this promotion. This campaign demonstrates EYE's commitment to supporting charities and ties in with the company's wider initiative, EYE Have a Heart, our global corporate responsibility and citizenship program."
Eye Fly of course manages six airport advertising concessions in the United Kingdom including Manchester Airports Group (MAG: Manchester Airport, East Midlands Airport, Bournemouth Airport and Humberside Airport), Cardiff International Airport and Belfast International Airport in Northern Ireland
Soccer Aid 2010 tickets are on sale now. Call 0844 576 2010 or visit itv.com/socceraid