Gail Chiasson, North American Editor
While it's not a digital board, this 'Cloudman' creative application for the Halifax Rainmen basketball team by Halifax, Nova Scotia-based ad agency Colour has been named among the best in the world by bestadsontv.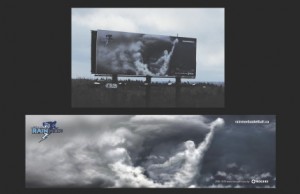 Every week, bestadsontv announces the best global creative in the categories of television, radio, print and outdoor. The Halifax Rainmen 'Cloudman' billboard was selected by judge Marcus Rebeschini, chief creative officer of Y&R Asia, in the Outdoor category from among hundreds of worldwide submissions.
"To be singled out for a beautifully executed idea, but also to have our work sit alongside creative from the biggest and best agencies on the planet, from Leo Burnett Chicago to TBWA Auckland, is incredible for an agency from our little corner of the world," says Chris Keevill, president and CEO of Colour, which also has offices in Moncton and St. John's. "The Rainmen have a great story to tell, and just because we're a small market team, doesn't mean we can't have an impact that's global."
As a component of a broader marketing plan, new corporate identity, modernized look and feel, and social media strategy developed by Colour for the Rainmen, this campaign has helped the team achieve record attendance levels and an increased earned-media presence in the local marketplace.
Already featured on adsoftheworld.com, the bestadsontv.com feature has proven that the size of the client or of the marketplace doesn't have to limit the impact of the creative.
We think it might have looked even more tremendous in digital!