Adrian J Cotterill, Editor-in-Chief
In what we see as a clever move, Symon Dacon has partnered with iBAHN, a leader in broadband and digital communications for the hospitality industry, to provide state-of-the-art visual communications solutions to hotel clients.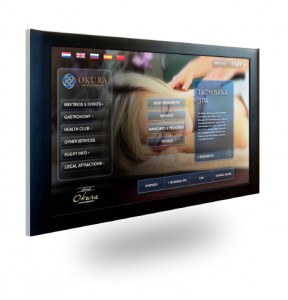 Symon Dacon have selected iBAHN as their strategic hospitality reseller across EMEA – thus making the complete Symon digital signage offering available through iBAHN.
The partnership will of course provide hoteliers with a sophisticated solution that will enable them to expand their visual communications beyond public signage to in-room TV.
As part of this partnership Symon Dacon and IBAHN will integrate their platforms; Symon Enterprise Software (SES) and ETVi, iBAHN's iPTV platform. This will enable hoteliers to deliver timely and targeted information such as spa information and restaurant promotions directly to guests in their rooms.
This is done using a single design tool 'Design Studio' to power the complete visual communications infrastructure – this includes meeting room displays, interactive kiosks, video walls, 3D displays, InView Mobile (which allows hotels to push signage content directly to guests Smartphone) and iPTV via iBAHN's ETVi platform.
Rob Brinklow, Symon Dacon's Hospitality Channel Manager told us "Guest interaction is an integral part of the Symon solution. Our partnership with iBAHN reinforces our view that digital signage should be more than simply 'screens on walls' … it should be part of a complete visual communications infrastructure".
Symon Dacon and iBAHN will be at IHTF 15th – 18th April 2010 and Symon Dacon of course have stand E9 at #ScreenMediaExpo