Russ Curry, Ministry of New Media
French high-street bank LCL chose the Scala Exhibitor Workshop at the Marketing Point de Vente show to announce publically that it is now beginning deployment of a national digital screen network.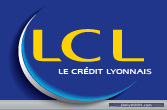 LCL has 6 million customers and 2,064 branches across the country and has calculated that it can reach 50% of these customers by focussing on the 500 most important branches. In total, some 1,200 screens will be installed in reception and waiting areas at a rate of 50 sites per month to complete the installation by October of this year.
Bernard Collier, Director of the digital project, explained that the bank has gone through two years (!) of testing various pilot schemes with a variety of combinations of software vendors and integrators.
One of their reasons for choosing Scala was to avoid becoming a prisoner of software supplied by integrator – Interestingly, in a later conference, Société Générale said that one of their reasons for choosing Mirane was to avoid a ping-pong match between software vendor and integrator. They prefer having to deal with only one contact that deals with everything, Ed
One of the advantages of such a long test period is that the bank has been able to carry out plenty of research. For example, with regular paper in-branch poster campaigns, they can promote no more than one or two products per week, whereas with digital this can be between 5 and 7. Products promoted on-screen scored a 75% recall rate, compared to 25% for a traditional static campaign. And a 24% increase in sales was recorded for products benefiting from digital promotion. But perhaps one of the most significant scores for LCL was that 85% of their customers felt that the presence of LCD screens in the branches helped project a 'modern' image of the bank. M. Collier may have surprised his audience by disingenuously pointing out that 5 years ago nobody had heard of LCL, but their high profile TV campaigns had changed all that. Not surprising really, since LCL is the result of a major re-branding campaign after Le Credit Lyonnais suffered badly from a series of scandals which damaged its reputation.
Another point which came out of the research was that it was desirable to differentiate the messages being shown in the reception and the waiting areas and this is being integrated into the system.
They also discovered that the bank's sponsorship activities were little known, and this too will be addressed in the programming. Analysis was able to show that there are three different types of branches according to their customer profiles, and this will also be reflected in the choice of messages directed at each branch.
Minicom also won big on this deal as well we believe.