Adrian J Cotterill, Editor-in-Chief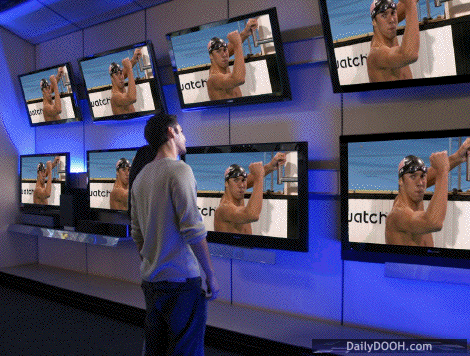 PRN tell us that their "In-Store Media Network (will) Thrill Shoppers During the Olympic Games in Retail Locations Nationwide" – it's obviously a good deal with NBC for the exclusive highlights (at least in retail) and probably based on the sort of 'filler' we have done on digital signage networks with the likes of E! Entertainment and Formula 1 Grand Prix probably quite interesting – especially if the content is re-purposed correctly (in very short chunks, works with and without sound, doesn't repeat very often, etc.).
Here's the official press release…
(SAN FRANCISCO, July 30, 2008) ­ Thomson¹s Premier Retail Networks, Inc. (PRN), the world¹s most experienced provider of digital media solutions at retail, has been selected as the exclusive provider of NBC Olympics highlights to retail shoppers during the 2008 Beijing Olympic Games, August 8-24. The announcement was made today by Gary Zenkel, president of NBC Olympics, and Richard Fisher, president of PRN.

Beginning August 9, highlights of the previous day¹s events and information about NBC¹s programming schedule that night will be broadcast daily to retail locations nationwide ­ from the Opening Ceremony to the Closing Ceremony. Stunning high definition footage of individual events will play on HDTV screens in more than 5,000 home electronics departments at key retailers. While waiting in line to check out, shoppers will also be able to keep up with some of the key moments from the Games on PRN¹s Checkout TV network, available in approximately 2,000 stores.

PRN currently has more than 100 active content partnerships with many top television networks, movie studios and publishers, covering a wide range of programming content.

³We are thrilled to bring highlights from NBC¹s spectacular Olympics coverage exclusively to over 650 million shoppers while they visit the nation¹s leading retailers,² said Richard Fisher, PRN president. ³NBC has long been a valued programming partner with PRN, and this relationship exemplifies the value PRN brings to shoppers, retailers and programming partners alike.²

³We anticipate that the Beijing Olympic Games will be the most talked-about television event of the year, said Gary Zenkel, president, NBC Olympics. ³PRN¹s vast reach at retail will enable NBC to reach a large number of fans when they are out and about, reminding them of the dramatic competition in Beijing and the viewing experience that awaits them when they return home.²

PRN enables retailers and manufacturers to reach consumers in over 6,500 leading retail stores worldwide. PRN works with retailers, content partners and advertisers to create in-store programming that engages, informs and motivates consumers where they shop. PRN¹s programming alliances include major television networks and other media properties, as well as movie studios, record labels and magazine and newspaper publishers. PRN¹s retailer customers include Acme Markets, Albertsons, Best Buy, Carrefour, Circuit City, Costco, Jewel-Osco, Pathmark, Sam¹s Club, Shaw¹s, ShopRite, Star Market and Walmart Stores.
###

About NBC Olympics

NBC, ³America's Olympic Network,² owns the exclusive U.S. media rights to the Olympic Games, television¹s most powerful property, through 2012, which includes Beijing in 2008, Vancouver in 2010 and London in 2012. From August 8-24, 2008 NBC Universal will present an unprecedented 3,600 hours of coverage, highlighted by NBC in primetime with live swimming, gymnastics and beach volleyball. In August 2004, 203 million viewers watched as the networks of NBC Universal‹NBC, MSNBC, CNBC, USA, Bravo, Telemundo, and NBC¹s HD affiliates‹offered a then record 1,210 hours of Olympic coverage from Athens. For additional information, go to NBCOlympics.com, a year-round
destination for fans of Olympic sports, featuring news, Beijing previews, athlete features, expert blogs, photos, Olympic video from the NBC archives and social tools enabling users to build communities around their favorite sports, post comments and blogs.