Adrian J Cotterill, Editor-in-Chief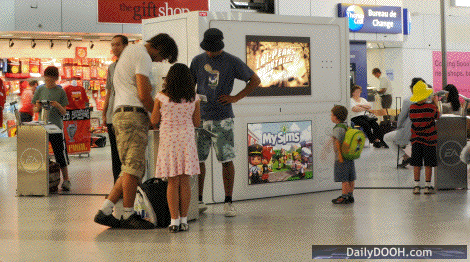 During the busy summer holiday period we note that EA Games is using EYE's brand experience zone at Manchester Airport's Terminal 1 to target families.
Jeremy Corfield, CEO EYE Europe, told us that he has "seen an upsurge in demand for experiential activity from clients"
EA Games enlisted the help of the Circle Agency to create the experiential zone – it's designed to provide an interactive experience for travellers to sample eleven games including; FIFA 08 (on NDS and PSP), My Sims and The Simpsons
EYE estimates that over four million passengers will pass through Manchester Airport during the summer holiday period and spend on average two and a half hours in the airport, prior to departure.
The Circle Agency has worked with EA Games for five years and runs the much acclaimed EA Hub.
Claire Stokes, Managing Director of the Circle Agency, stated, "We are seeing an extremely positive response rate on site and sales have already seen a notable increase. I can see airport interaction being something we repeat in the future."