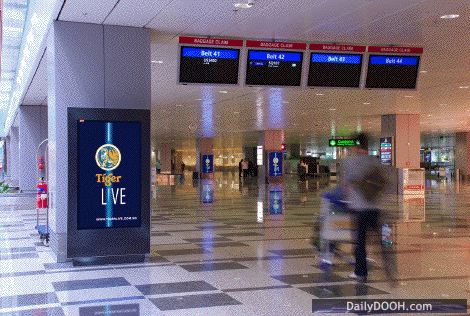 For those of you who don't know (we didn't), TigerLIVE is Southeast Asia's first multi-sensory brand entertainment centre spearheaded by APB's flagship brew Tiger Beer – ah yes we have heard of the beer, Ed
Located at St James Power Station, TigerLIVE is a Singapore tourist attraction. Visitors at TigerLIVE will embark on an interactive journey that features interesting snippets of the Tiger Beer story, brewing processes, innovations and its evolution from a local beer to a recognised global brand.
Here we see them using EYE's Digital Arrivals Network at Terminal 3 – EYE by the way now offers more than 200 advertising opportunities across five terminals at Singapore Changi Airport.