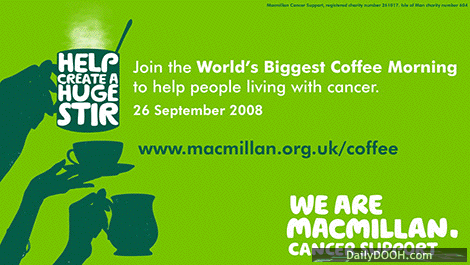 Our exclusive screen shots of the Teaser Campaign for Macmillan's World's Biggest Coffee Morning fundraising event take last year's creative to the next stage by introducing 2 additional mugs to create a 3 mug salute to the event being held on Friday 26th September 2008.
Since they launched their iconic Wolff Ollins designed brand last year, the UK DOOH Industry's charity of choice, Macmillan Cancer Support and the Coffee Morning in particular has gone from strength to strength.
In advance of the day itself this year, Macmillan is putting together a nationwide advertising campaign across multiple media channels of which the Digital Out of Home industry now plays a key part. Your donation of airtime last year is extremely important to their fundraising efforts which in 2007 raised £7.5 million – this year their target is set at £8.25 million!
DOOH ADVERTISING CAMPAIGN
Amigo Digital have again been putting the finishing touches to this year's creative of which there are now 2 campaign strands; the Teaser Campaign and the Main Campaign.
There are 2 animations per campaign and the Teaser animations are now available for download on our DailyDOOH Distribution site http://www.dailydooh.net/
Two creative routes for the teaser campaign have been developed – we especially like the 'Macmillan Millions' take as we feel it has much more impact and is much more likely to get noticed.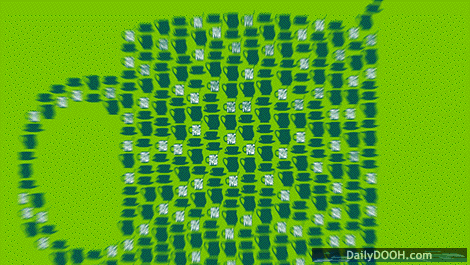 However, 'Raise Your Mug' and 'Millions' both get the very important registration message across extremely well.
Take a look at the creative in action for yourself (it also nicely demonstrates our content distribution and preview capability to good affect): –
http://www.dailydooh.net/player.php?clip=stir
http://www.dailydooh.net/player.php?clip=mug
PLAYOUT SCHEDULE
The networks who have kindly donated airtime (to date) will be running the creative around these dates: –
August
Tuesday 5th: Teaser Campaign from yesterday for 19 days inc w/e to Friday 22nd
September
Monday 1st: Main Campaign for 26 days inc w/e to Saturday 27th
Saturday 27th or Monday 29th: Main Campaign comes off networks
Do remember that as the airtime is donated this is a 'broad schedule' designed to accommodate Network's own scheduling, availability (and paying customers) however the plan is still very much to integrate the DOOH element with the (other) National TV, online and press advertising campaigns.
If there are any further UK networks who would like to take part in this initiative then please contact us here direct at DailyDOOH.
We will be getting lots of photos of the campaigns in action from our network spotters in the field and like last year, Macmillan photos will feature heavily on this site between now and the end of September.
We have been told that a first look of the Main Campaign Animations will be available soon so watch this space!